Bicycling in Philadelphia — What Changed in 2017?
Authored By: The Circuit Trails | February 23, 2018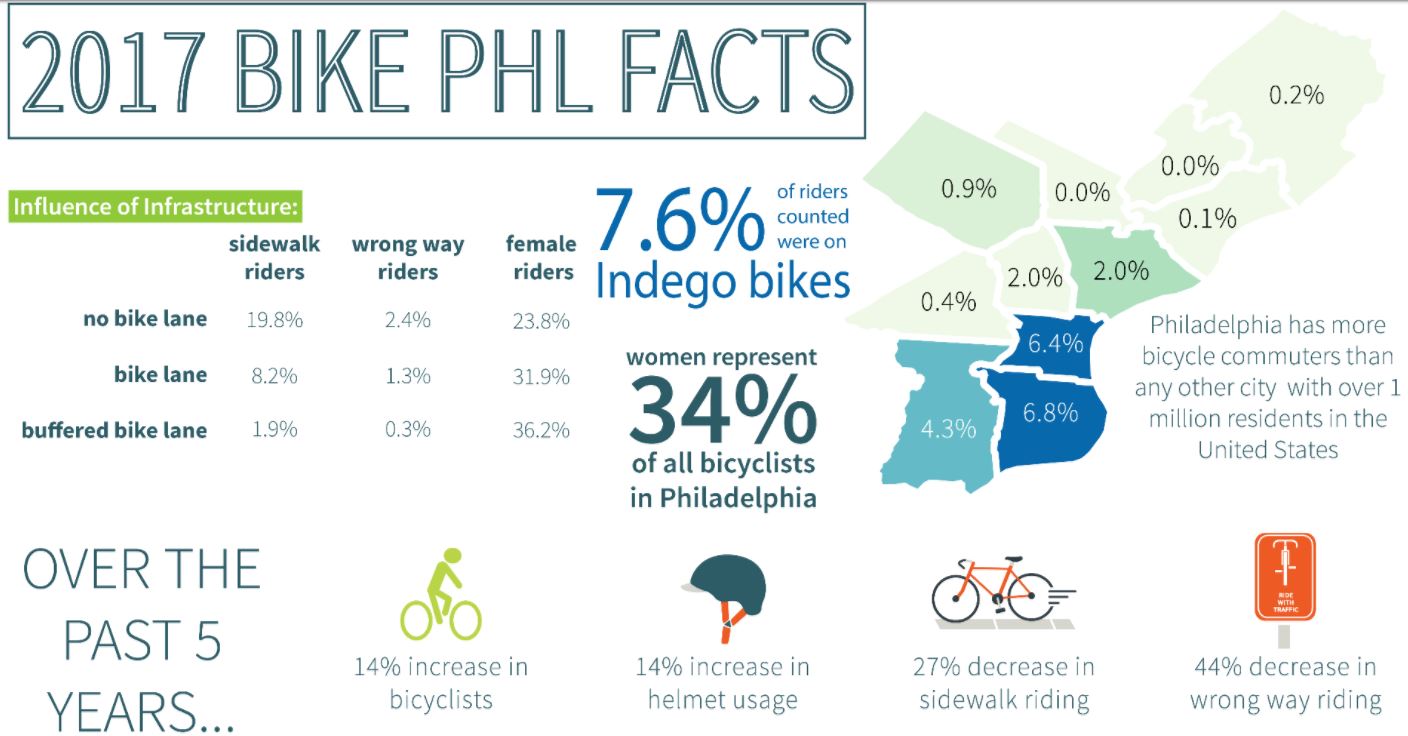 Every year, the Bicycle Coalition of Greater Philadelphia collects a huge amount of data about bicyclists in Philadelphia. This data paints a pretty clear picture of what it's like to bike in the city, answering questions like, "What does the typical cyclist look like?" and "Which areas have the most cyclist activity?" which gives the Coalition the opportunity to learn about what's working, and what can be improved about the city's bike infrastructure.
Check out some of the highlights from the Bicycle Coalition's 2017 Bike PHL Facts study:
The Influence of Infrastructure
Over the past five years, sidewalk riding and wrong-way riding – which are both illegal – have decreased by 27% and 44%, respectively. (See Figure 1 below.)
Cyclists will go out of their way to ride on safer roads – the BCGP counted 148 bikers per hour in buffered bike lanes, compared to 41 bikers per hour on roads with no bicycle infrastructure. (See Figure 2 below.)
Out of all the bridges that cross the Schuylkill River, the South Street Bridge – complete with a painted and buffered bike lane – sees 50% of all bike traffic over the River. (See Figure 3 below.)
At locations throughout what the BCGP calls the "High Injury Network," 11.7% of cyclists rode on the sidewalk for their own safety. At locations not along the High Injury Network, only 3.3% of cyclists rode on the sidewalk.

Consider this: after a protected bike lane was installed on West Chestnut, the amount of sidewalk riders at 34th & Chestnut decreased by 55%! (See Figure 4 below.)

OH and by the way, Philadelphia is the most-biked city in the United States (minimum 1,000,000 residents.) 2.2% of our work force commutes by bike.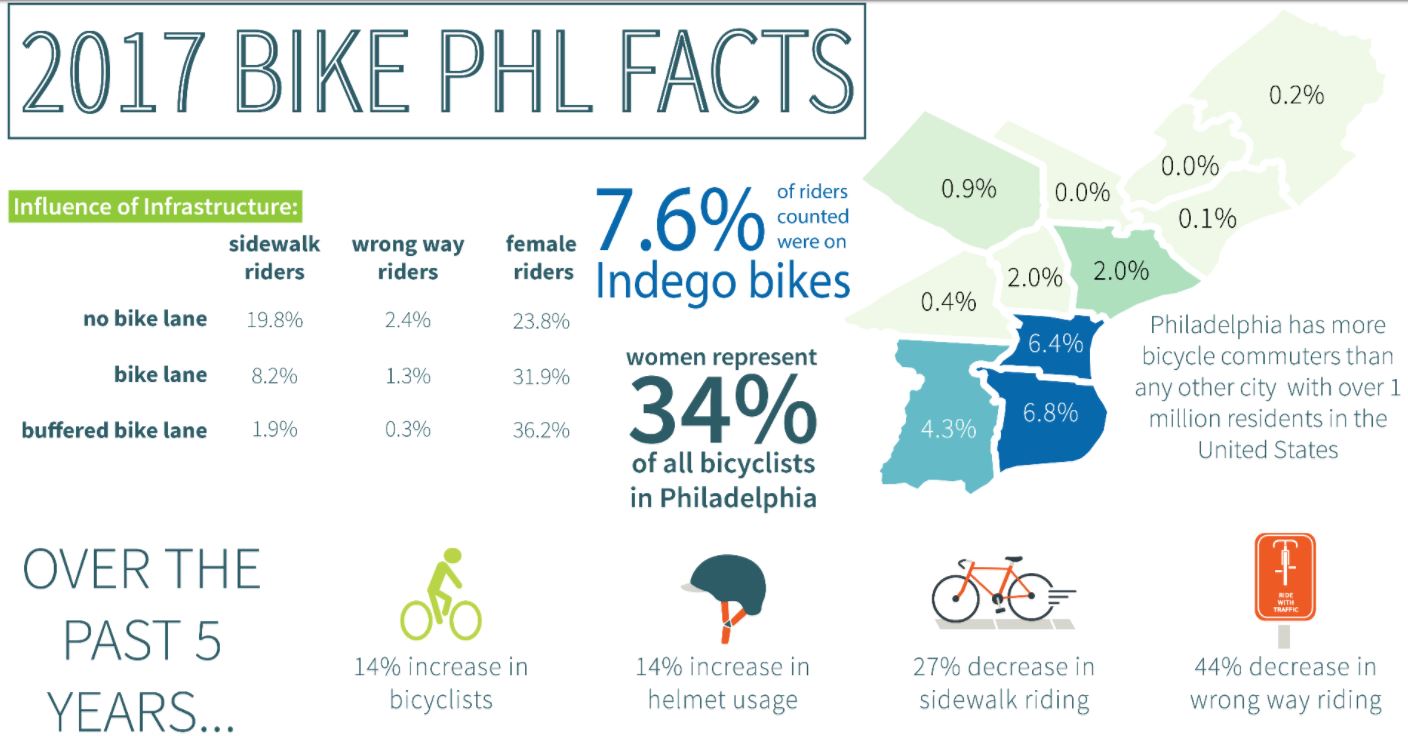 Figure 1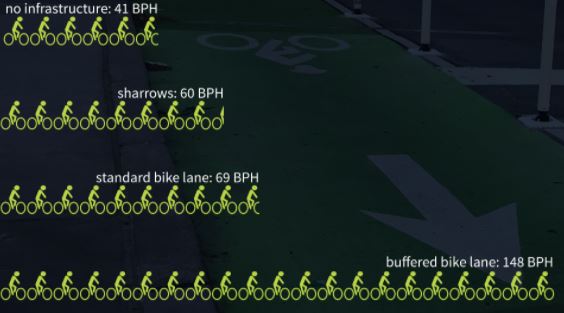 Figure 2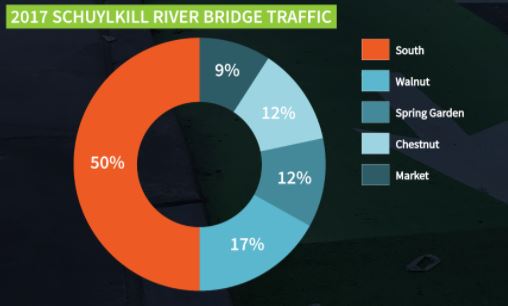 Figure 3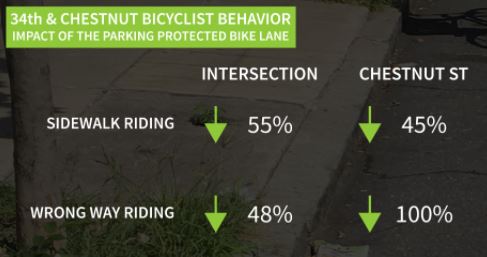 Figure 4
Why is city bike lane data important for the Circuit? As greenways and other trails in and around the city limits receive funding and are then constructed, the entire system contributes to a more connected regional trail network.
Check out the Bicycle Coalition's full 2017 Bike PHL Facts report here!