Celebrate Pennsylvania Trails Month #onthecircuit!
Authored By: The Circuit Trails | September 18, 2018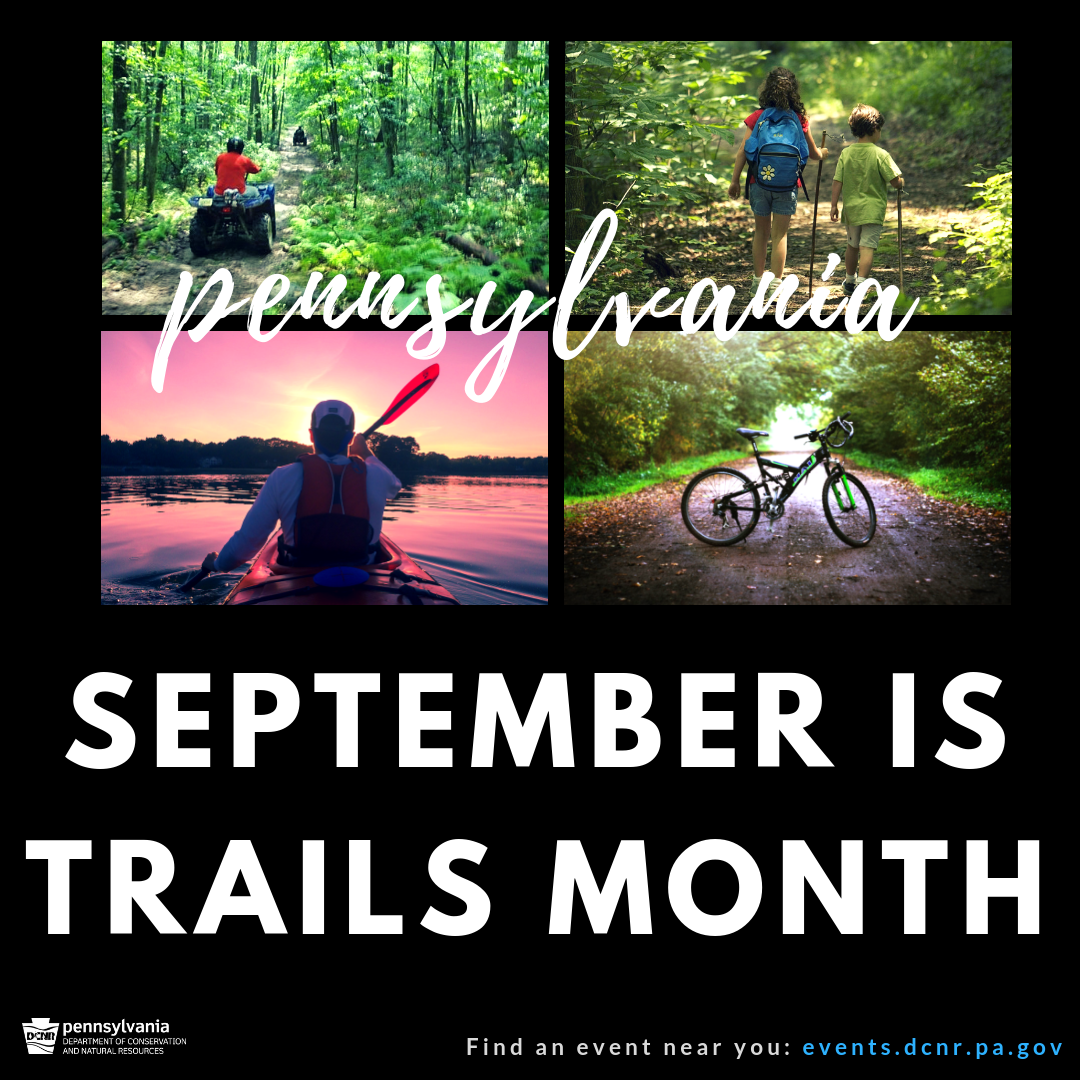 Pennsylvania trails are so loveable, we need a whole month to celebrate them.
That's right, we are thrilled to help the DCNR celebrate this September as the first-annual Pennsylvania Trails Month! As you might already know, many of the trails that make up the vast Circuit Trails network are located in Pennsylvania. With more than 250 miles of completed trails #onthecircuit in Pennsylvania alone, there is never a dull moment.
We will be celebrating all September long and we want to you to join us! Throughout the month there will be an immense variety of free events designed to help you explore the 12,000 miles of trails throughout Pennsylvania, including plenty right here on the Circuit Trails. If you aren't already an avid PA Circuit Trails user, or you're just looking for a new recommendation, explore PA today by venturing out to one of our upcoming events #onthecircuit:
Bilingual Bird Walk in Tacony Creek Park (Spanish & English)
When: September 22, 2018 from 8 to 10:30AM
Where: Whitaker Avenue Gateway on the Tacony Creek Trail
Embrace the diversity in our region by experiencing a bilingual bird walk! You'll have the opportunity to experience the walk in either English or Spanish while you walk through the beautiful neighborhood spotting the singing birds and wildlife along the way. Binoculars and coffee will be provided!
When: September 22, 2018 at 9am
Where: Darby Creek Trail
Get active and get educated by coming out to a Prescribe-a-Trail Walk! This is your opportunity to get your health care questions answered and talk with a health practitioner who will share information on how to achieve maximum health during a brisk walk.
Circuit Trails Open House: Manayunk Brewing Co.
When: September 25, 2018 from 6 to 8PM
Where: Manayunk Brewing Co. on the Schuylkill River Trail
Join us to learn about the Circuit Trails and upcoming related projects happening in the North West Philadelphia and Lower Merion Township. Let us know you're coming by RSVPing here!
Ribbon-Cutting for the River Trail Gateway
When: September 27, 2018 from 11AM to 1PM
Where: Schuylkill Center for Environmental Education on the Schuylkill River Trail
This new gateway reveals an unparalleled and previously hidden view of Smith Run's forested glen, includes a trail side gathering area, adds a bike rack and new signage, and weaves stone, metal and landscaping to create our new entrance on the Schuylkill River Trail. Join us for the official dedication!
PopUpPlay at Spruce Street Harbor Park
When: September 30, 2018 at 11:30am
Where: Spruce Street Harbor Park on the Delaware River Trail
If you're looking for family fun, look no further than PopUpPlay at Spruce Street Harbor Park! Spend your Sunday morning down on the Delaware waterfront participating in a variety of free kid activities that revolve around themes like water science, civic engagement, building and more!
—
This is only a small sampling of the abundance of events planned in September, click here for a full look at what's happening #onthecircuit in September. Did you know that our Go. Do. Discover. #onthecircuit Scavenger Hunt is still going strong? That's right, and there is still time left for you to enter! While you are out and about on any of the Circuit Trails snap a picture of yourself. That picture could win you our Scavenger Hunt Grand Prize, which includes a new from Fuji Bikes, a pedal & paddle excursion on the Schuylkill River, swag + more! All you have to do to be entered to win is upload your photo here, or post it to your favorite social media platform with #onthecircuit. Start your hunt today because the hunt will end on September 22!
If you are interested in exploring more of Pennsylvania's trails that aren't #onthecircuit take a look at the Department of Conservation and Natural Resources' calendar of events for more information about how you can take to the trails and the Circuit this month!