Circuit Spotlight: Joshua Nims, Operations Manager and Skateboarding Fanatic
Authored By: The Circuit Trails | April 11, 2016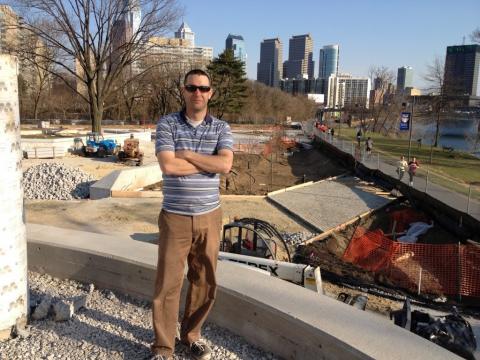 Maintaining urban trails and public spaces—keeping them free from trash and graffiti—can be a herculean task. Joshua Nims, the Operations Manager for the Schuylkill River Development Corporation (SRDC), and his colleagues are the reason the Schuylkill Banks are so beautiful and well maintained. Josh can be found landscaping along the trails, leading the history-packed Schuylkill Banks Riverboat Tours, removing graffiti, and so much more. Check out what Josh had to say when we caught up with him recently:
In your current position as the Operations Manager for SRDC, you manage the Schuylkill Banks maintenance program, visitor's center and volunteer staff. What does a typical day look like for you?
My day usually starts around 8:30 a.m. I drop my daughter off at school and then unlock the public restrooms on the trail near Walnut Street by 9:00 a.m. We check the trail for trash from 9:30 to 11:30 a.m., and then we start taking care of graffiti if there are major tags. As the weather gets warmer, we do more landscaping work along the trail as well. My afternoons are often when I make it back to the office to check email and connect with the rest of our staff.
I noticed you started your career as a lawyer. Could you talk about why you chose to change your path and what the transition has been like?
I really wanted to be an advocate for civil and consumer rights when I went to law school at Temple, but my interests in the environment and city planning won out when I got an offer to work for SRDC. I've been here since 2006, and I wouldn't turn back.
In your opinion, what makes the Circuit Trails unique and valuable?
The bicycle and pedestrian trail system developing around Center City and beyond is changing the way Philadelphians recreate and commute to work. I feel lucky to be part of the regional transformation that is making the trail system into an alternative transit modes to get around the city. The Circuit will eventually create more than 750 miles of regional trails around the nine county region that will allow hundreds of thousands of commuters to safely connect with the city without cars. It's great to be a part of that.
What's your favorite trail and why?
I love Grays Ferry Crescent. I managed the project onsite from 2009-2011 for SRDC. It has so many connections to the Southwest Philadelphia community as well as the Grays Ferry and Point Breeze communities. It doesn't hurt that we got to build a skatepark down there, but there are lots of other positives as well in terms of the fishing and family outings we see happening down there.
Can you talk about your involvement with skateparks in Philadelphia?
I was lucky enough to be able to develop Paines Park next to the Art Museum as well as the Grays Ferry Skatepark at the Grays Ferry Trail segment. Both parks have been very popular and have helped to add to the number of users on the trails—especially Grays Ferry.
Do you have any tips for skateboarders who like riding on #onthecircuit?
Be respectful of baby carriages and older people using the trail. Overall, I'm very happy with how many people, old and young, use the skateparks that we have built on the Schuylkill Banks. The Grays Ferry park is like a little league field for skateboarding sometimes—moms, dads and kids all hanging out and watching everyone skate together!