Circuit Trails Fall '17 Semi-Annual Meeting Recap
Authored By: The Circuit Trails | December 13, 2017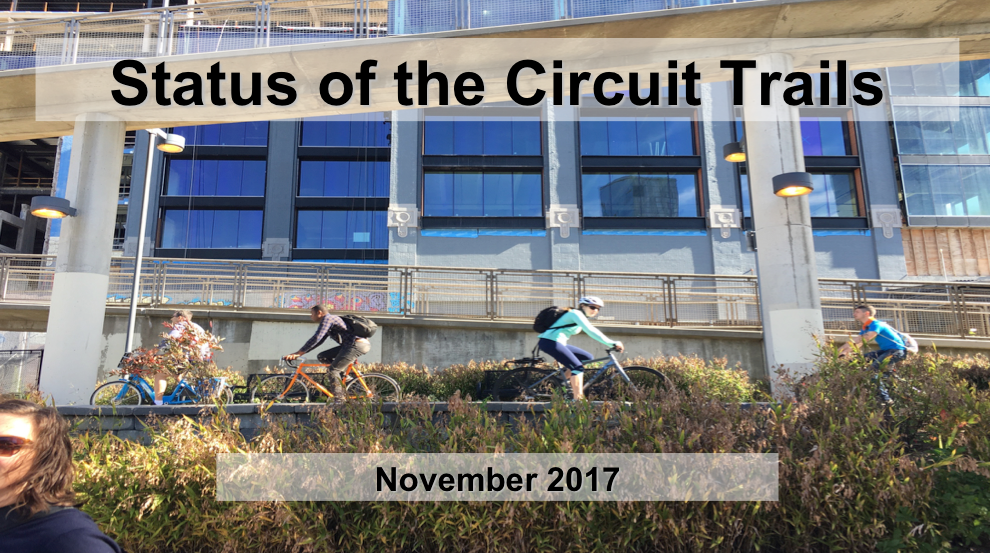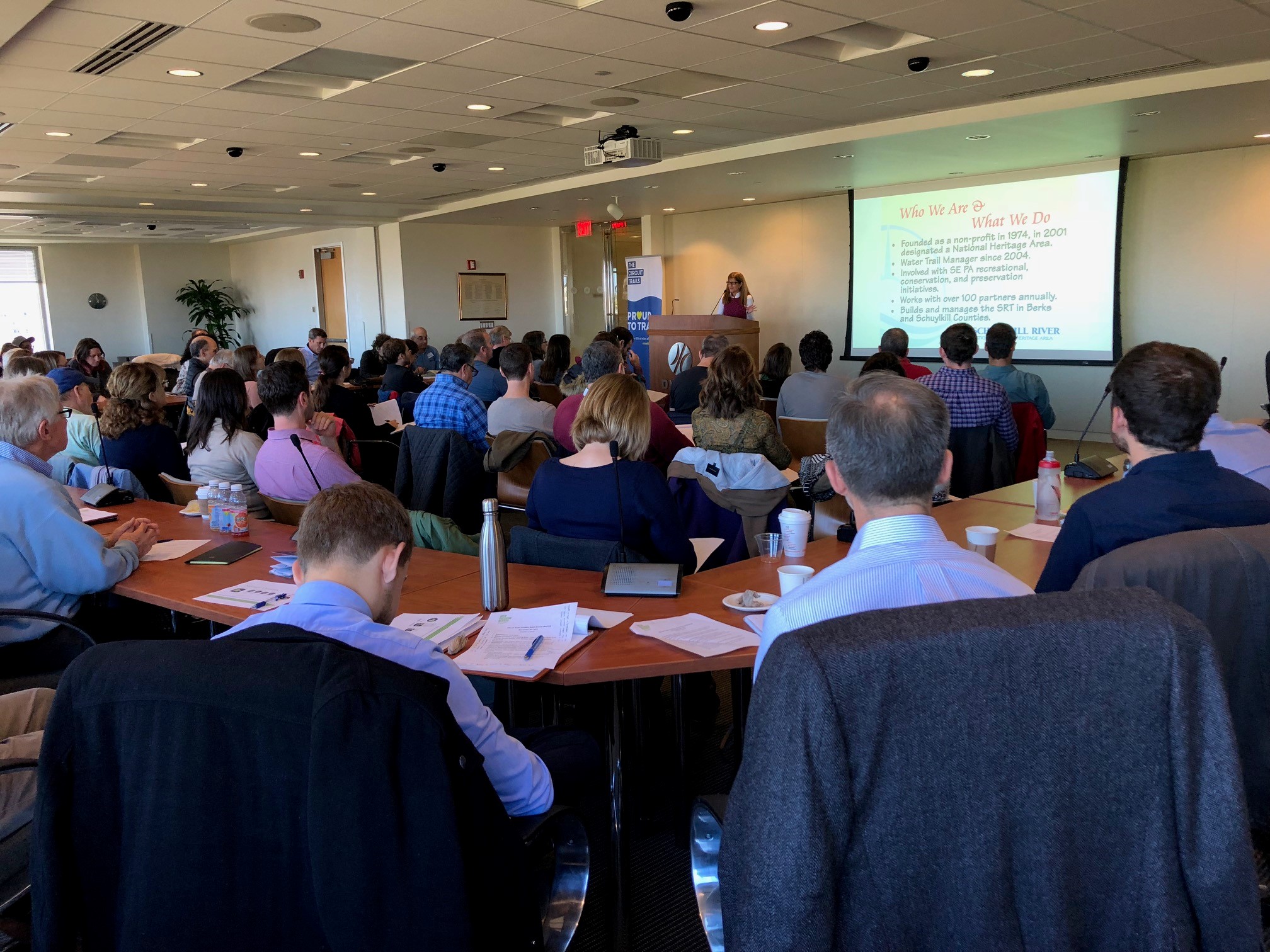 Twice a year, the Circuit Coalition – comprised of 51 member organizations – convenes to connect on everything from our progress and new projects to the tools and resources we all can use to advance our individual trails and the Circuit as a whole. A few weeks ago, the Delaware Valley Regional Planning Commission hosted our fall gathering. There were many new faces in the room, which is always exciting. The Coalition is definitely #proudtotrail! We've got lots of work to do to meet our challenge of completing 500 miles by 2025 but there is great energy, leadership, and collaboration happening to get us there. Check out the Bicycle Coalition's full blog below for the meeting highlights.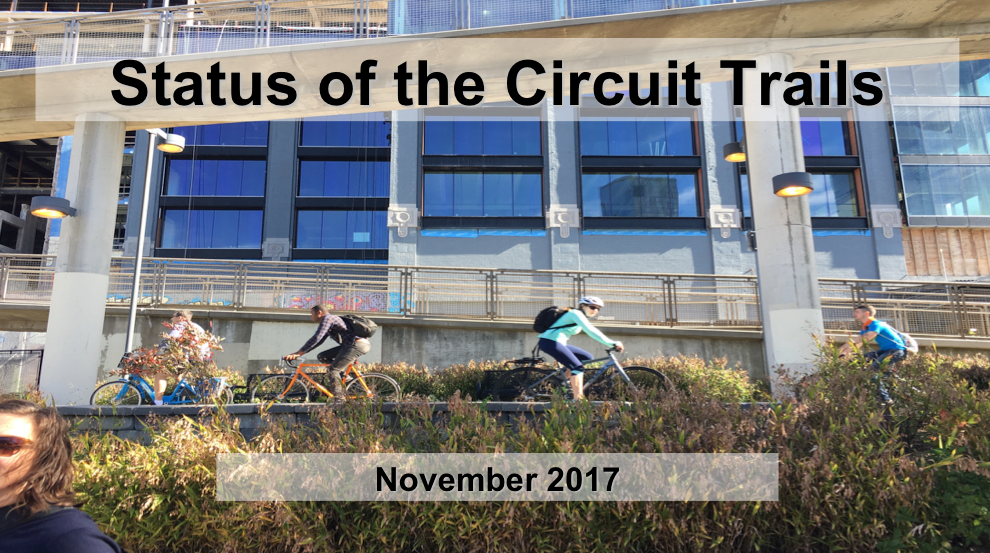 Earlier this month, The Circuit Coalition held its Fall 2017 semi-annual meeting at the DVRPC board room. The Coalition is comprised of 51 member organizations that are dedicated to getting The Circuit built and used by residents of and visitors to our region.
Here are the highlights:
DVRPC's Chris Linn gave us the numbers:
The Circuit has grown! It was once 750 miles, and is now 811 miles! This is due to the addition of new trails to the network, including the Cross Camden County Trail.
325.1 miles are complete, 80.1 in progress, 119.2 in the pipeline (trails that are actively moving forward), and 286.6 planned
5.4 miles have been completed in the past year, 6 miles expected next year
New trails built included segments of: Marcus Hook, Bartram's Mile, K&T Trail, Tinicum Sidepath, Cooper's Poynt, Liberty Bell, and Lawrence Hopewell Trail.
Segments coming soon include: SRT South – Christian, Baxter Trail, Darby Creek, Cobbs Creek Segment A, Trenton Wellness Loop, North Park Drive, SRT Washington St – Lower Pottsgrove
Anya Saretzky of Rails-to-Trails Conservancy presented on RTC's Circuit signage campaign. Signage on The Circuit has been a growing issue, as Coalition members have noted that many trail users don't realize they're on The Circuit!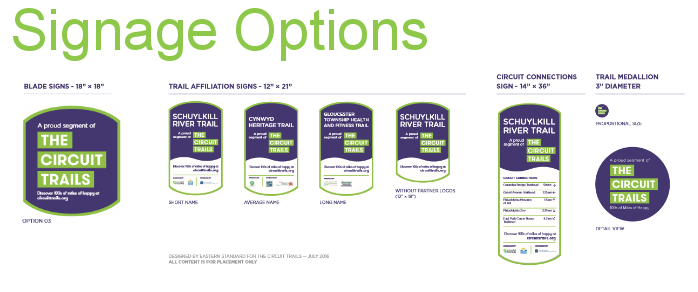 RTC is in the process of completing a signage pilot with several municipalities along The Circuit.
Next up, RTC's Tom Sexton gave us an update on trail maintenance throughout the region, which is an oft-overlooked aspect of trail funding. Tom showed us a new trail maintenance worksheet that will help municipalities better anticipate what maintenance costs on new trails will be, based on previous efforts on existing trails.
We were also given a yearly summary of RTC's marketing and communications efforts by Brandi Horton of RTC and Paige Knapp of Devine + Partners, which is the Circuit Coalition's marketing and public relations firm.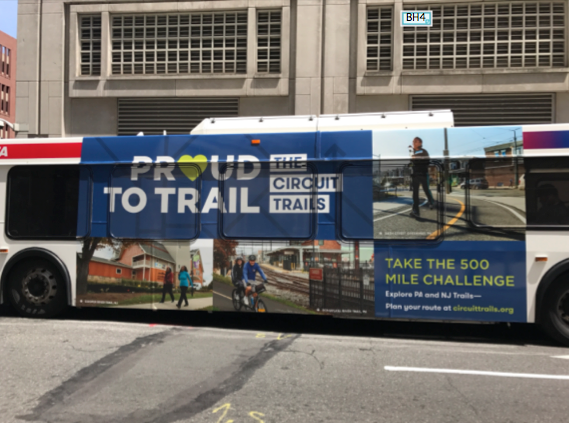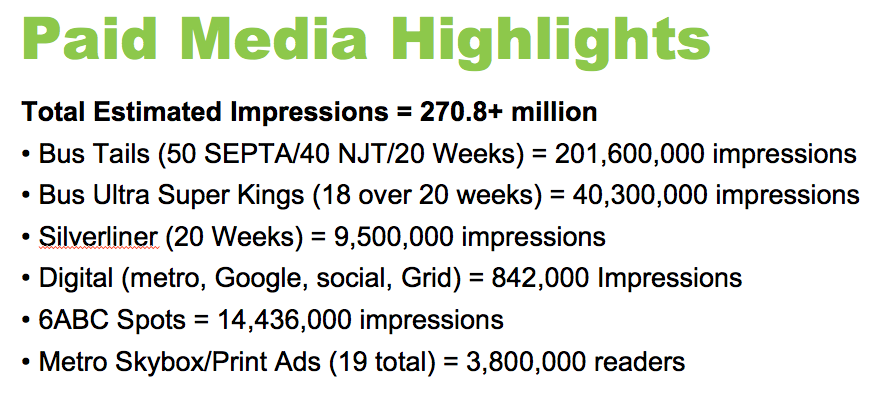 New Jersey Conservation Foundation's Olivia Glenn next gave a presentation about creating synergy between The Alliance For Watershed Education (AWE) and The Circuit. AWE was created to unify the 23 watershed education centers that exist along the Delaware River watershed and help promote their work to surrounding communities in the three states they operate in. Interestingly, the vast majority of AWE centers are already located along Circuit trails or major connecting trails.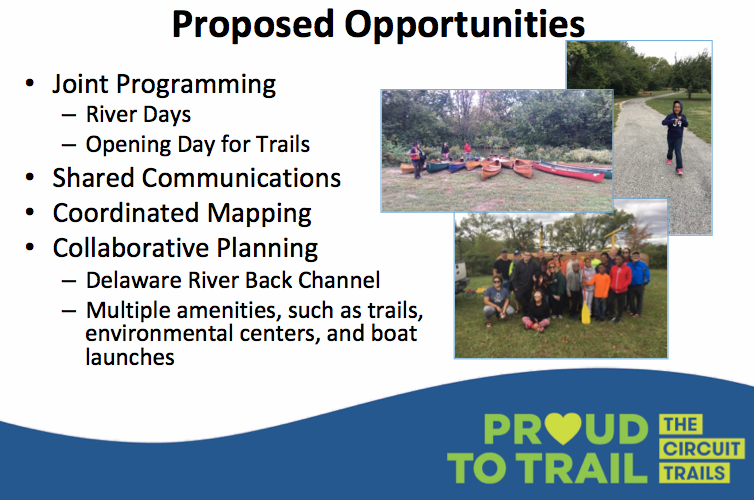 Next up, Patrick Starr of the Pennsylvania Environmental Council (PEC) gave a presentation on how to expand the "Circuit Trails Pipeline," which is essentially the group of prospective trails that have active advocates and are most likely to be built in the near future. We need to expand the pipeline in order to reach the goal of 500 miles of Circuit trails built by 2025, which will get us on track to get The Circuit completed by 2040, as called for in the DVRPC's Long-Range Plan. Patrick discussed creating a "digital brain trust" to get critical information out of individual experts' heads and into the Circuit Coalition's hivemind.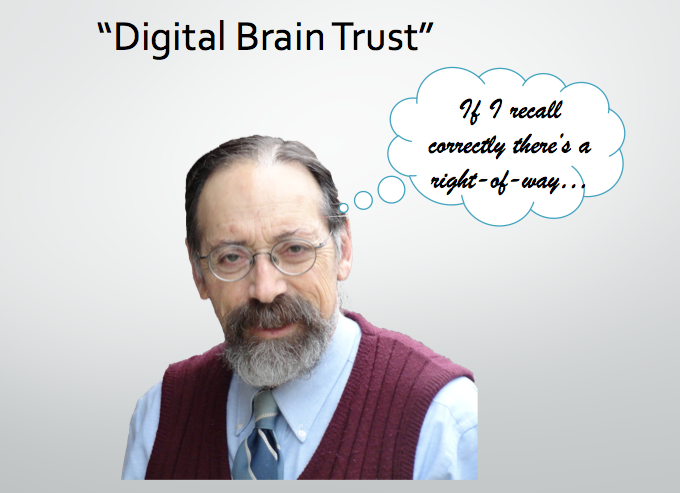 Patrick highlighted where we stand today, and a proposed direction for getting The Circuit back on schedule…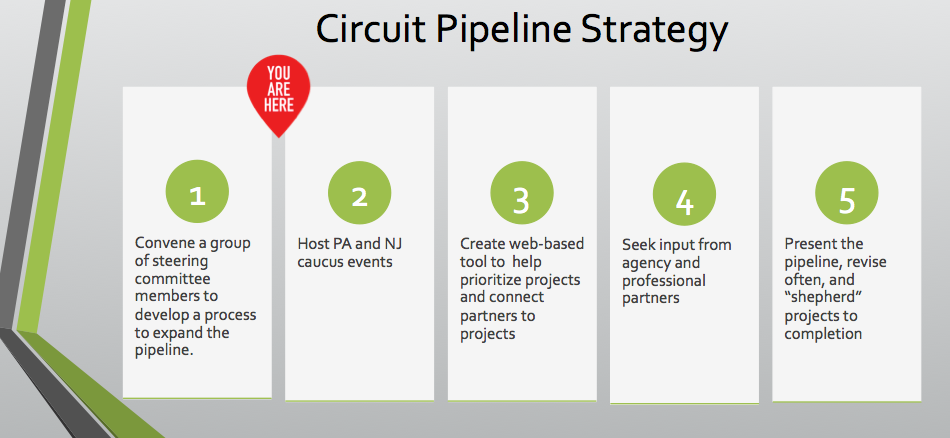 …and gave us a clear definition for Circuit trail categories…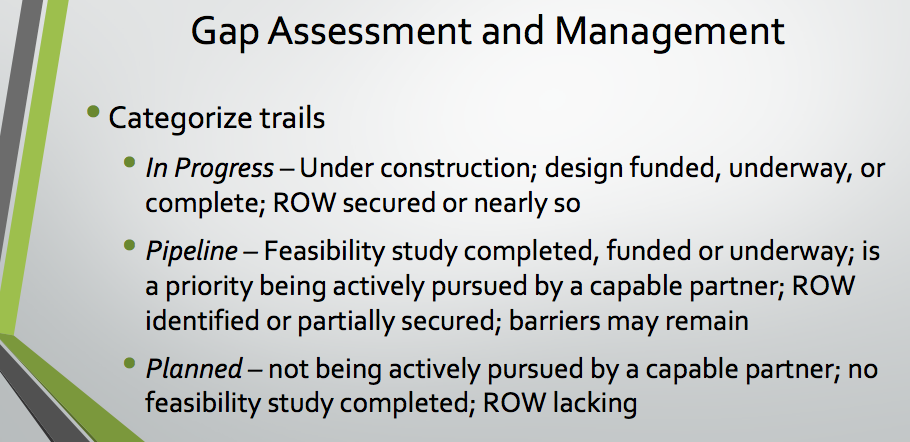 …and premiered a the new "Circuit Interactive Implementation Tool"…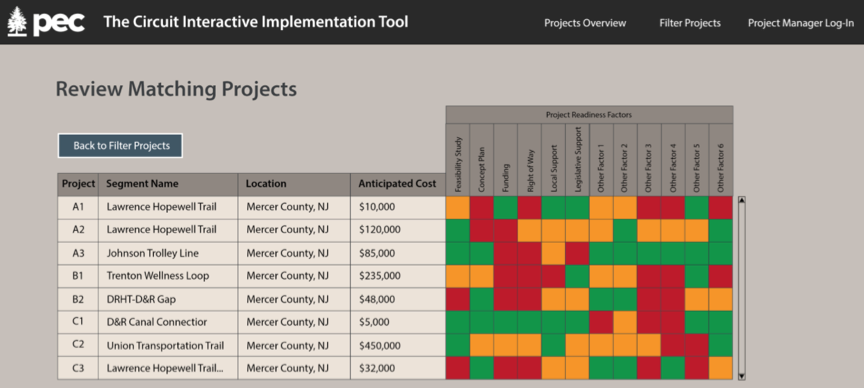 …which will help Coalition members be able to determine at a glance what obstacles remain for a given trail segment.
Leonard Bonarek of the Bicycle Coalition of Greater Philadelphia gave us a quick update on the status of regional Circuit resolutions. Leonard gave us a peek behind the curtains at the Circuit Coalition's efforts to get 100 local governments to sign a resolution in support of building 500 miles of The Circuit by 2025. Tools he's been using include a massive spreadsheet and an interactive web map that together track the status of the resolution in every local government (all 350+) in our region. To date, we have 61 municipalities and four counties in our region on board, with a lot more in progress (yellow in the map below).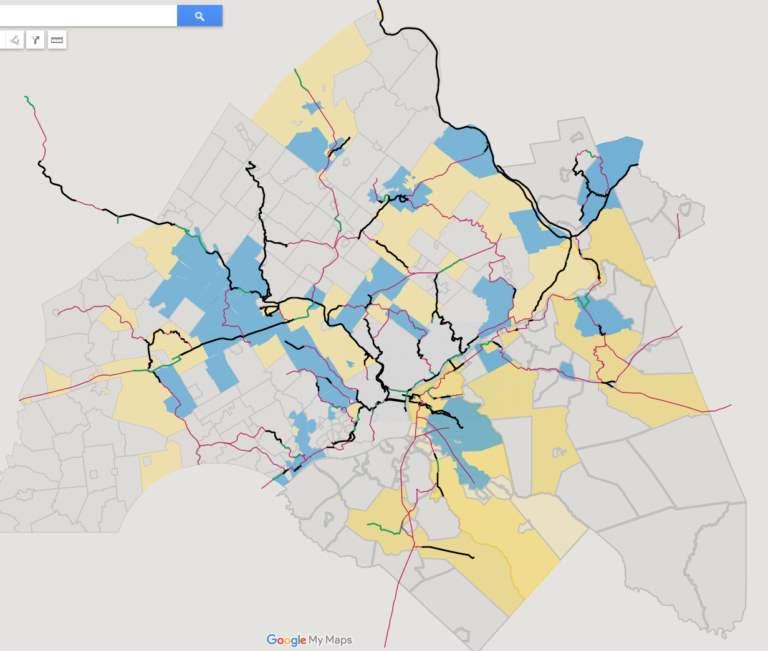 To close out, we enjoyed two trail project showcases:
Elaine Schaffer of the Schuylkill River Heritage Area gave us an update on the Schuylkill River Trail North.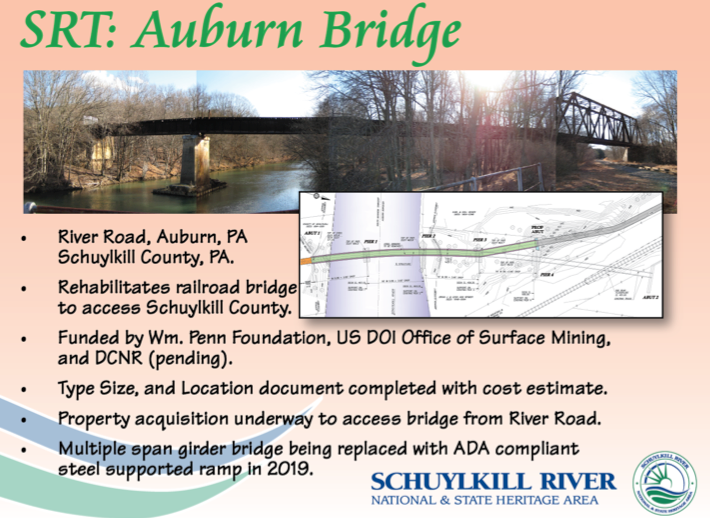 Not to be outdone, Burlington County's Matt Johnson gave us a somehow quite funny recount of efforts to create an at-grade crossing to get the Delaware River Heritage Trail across the New Jersey Transit RiverLINE tracks.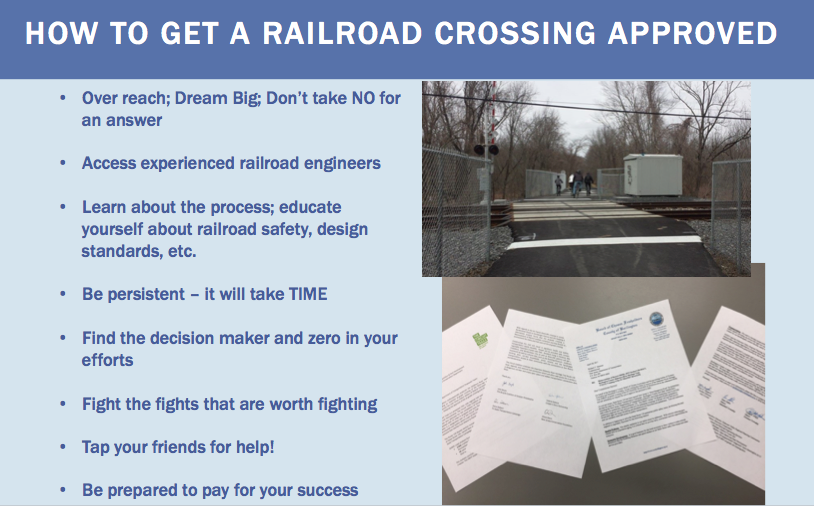 Click here to view the full presentation.