Cobbs Creek Celebration!
Authored By: Daniel Paschall | Mid-Atlantic Manager for the East Coast Greenway Alliance | August 26, 2021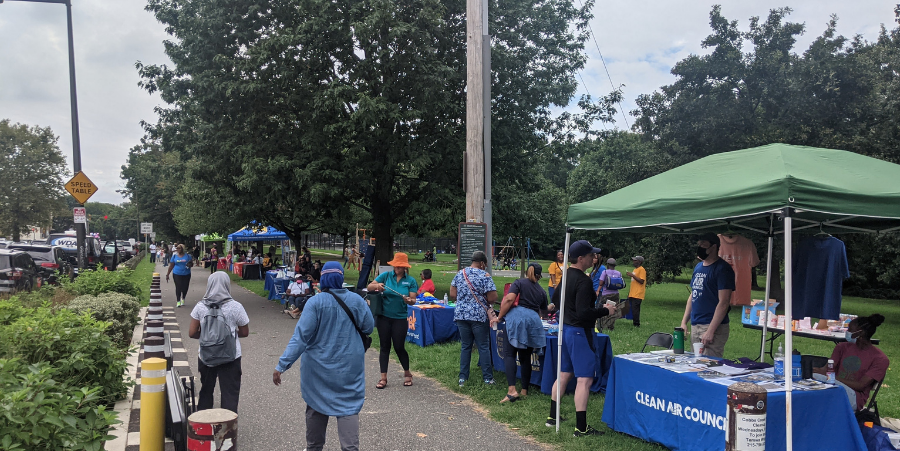 For those who may not have been paying attention, a LOT is happening along Cobbs Creek on the western and southwestern border of Philadelphia and Delaware County. The Cobbs Creek Trail is a scenic, paved trail along Cobbs Creek Park and is a gem of both the Circuit Trails network and the East Coast Greenway. The paved trail also connects to other natural surface walking paths down by the creek through the forested areas of the park as well. Over the past few years the Circuit Trails Coalition has documented exciting new trails, volunteer work, and long overdue safety improvements after decades of community advocacy.
This past Saturday, August 21, a host of community organizations, neighborhood residents, families, and outdoor enthusiasts came together along the paved Cobbs Creek Trail at the Cobbs Creek Community Environmental Center for the Cobbs Creek Summer Celebration. Participants got to rediscover the trails of Cobbs Creek Park on a pair of wellness and nature walks, learn archery, ride horses, and meet more than 15 local organizations offering programming, resources, services, and ways to get involved in improving the community! Capping it all off was the WDAS Radio Station DJ bringing music and Siddiq's real fruit water ice, free for all!
To find out more about events in Cobbs Creek Park, make sure to check online for updates from the Cobbs Creek Community Environmental Center or on their bulletin board at 700 Cobbs Creek Pkwy, Philadelphia, PA 19143 (by Catharine St and Cobbs Pkwy). Also, linked here is a list of the Environmental Center's Fall 2021 programs: page 1, page 2.
Images courtesy of East Coast Greenway Alliance
The event follows a long-growing community effort over decades of resident advocacy, which has recently bloomed with new trail expansion, trail and park beautification, and safety improvements along Cobbs Parkway, to better connect residents and visitors with the many amenities of the Cobbs Creek Park, Trail, and Watershed:
1) The extension of the paved Cobbs Creek Trail: with the completion of "Segment A" from 70th St to Woodland Ave (see maps of segments below and interactive Circuit Trails Map here), the trail is inching its way piece by piece down to the John Heinz National Wildlife Refuge. This paved trail is also connected with a parallel set of natural surface walking trails that take users down along the creek.
Imagine being able to stroll or roll from the 63rd St Market-Frankford Line Station on Market St down the Philly / Delco border all the way to the Heinz Refuge! Up next are:
The construction of "Segment D", which will be a trail from the Heinz Refuge entrance to just north of the intersection of Lindbergh and 84th St;
The design of "Segment B1" to extend the newest piece of Cobbs from Woodland along Island Ave, separated from traffic to the small side street, Wheeler St.
Look for updates on the development of both of these segments later in 2021!
2) Cobbs Creek Trail volunteer clean-ups: these clean-ups have only grown stronger and more persistent in the fight against litter along the Cobbs Pkwy and Trail. An increasing number of Cobbs Creek Ambassadors have teamed up to adopt various segments of the trail to keep tidy and beautiful. Check out some photos of just a few of the many, many clean-ups happening along the trail, and please reach out to Rich Guffanti at richguffanti@yahoo.com to learn more about the seven clean ups that happen monthly and weekly along Cobbs Creek Park!
3) Cobbs Creek Parkway Safety Improvements: PennDOT has undertaken a number of significant safety interventions along the Cobbs Creek Parkway, including traffic calming treatments such as speed tables, median quick curb delineators, narrower lanes, center line rumble strips, new signage, and daylighting a number of intersections. After studying the before and after behaviors of drivers, PennDOT has found that the interventions dramatically reduced speeding along Cobbs Creek Pkwy! Many more improvements are still needed and in the works by both PennDOT and the City of Philadelphia, addressing issues like the beat up guiderail along the Parkway, as well as creating safe pedestrian crossings at critical intersections along the corridor. For more information, see details from 5th Square PAC.
With so much more to come, now is the time to rediscover all the natural and community goodness that Cobbs Creek Park holds with its many biking and walking paths, wildlife, and community programming!
For residents and groups looking to get more involved with the Cobbs Creek Partners working group, reach out to Will Fraser with the Clean Air Council at wfraser@cleanair.org.