Cooper's Poynt Waterfront Park: Camden's Newest Community Space
Authored By: The Circuit Trails | June 8, 2017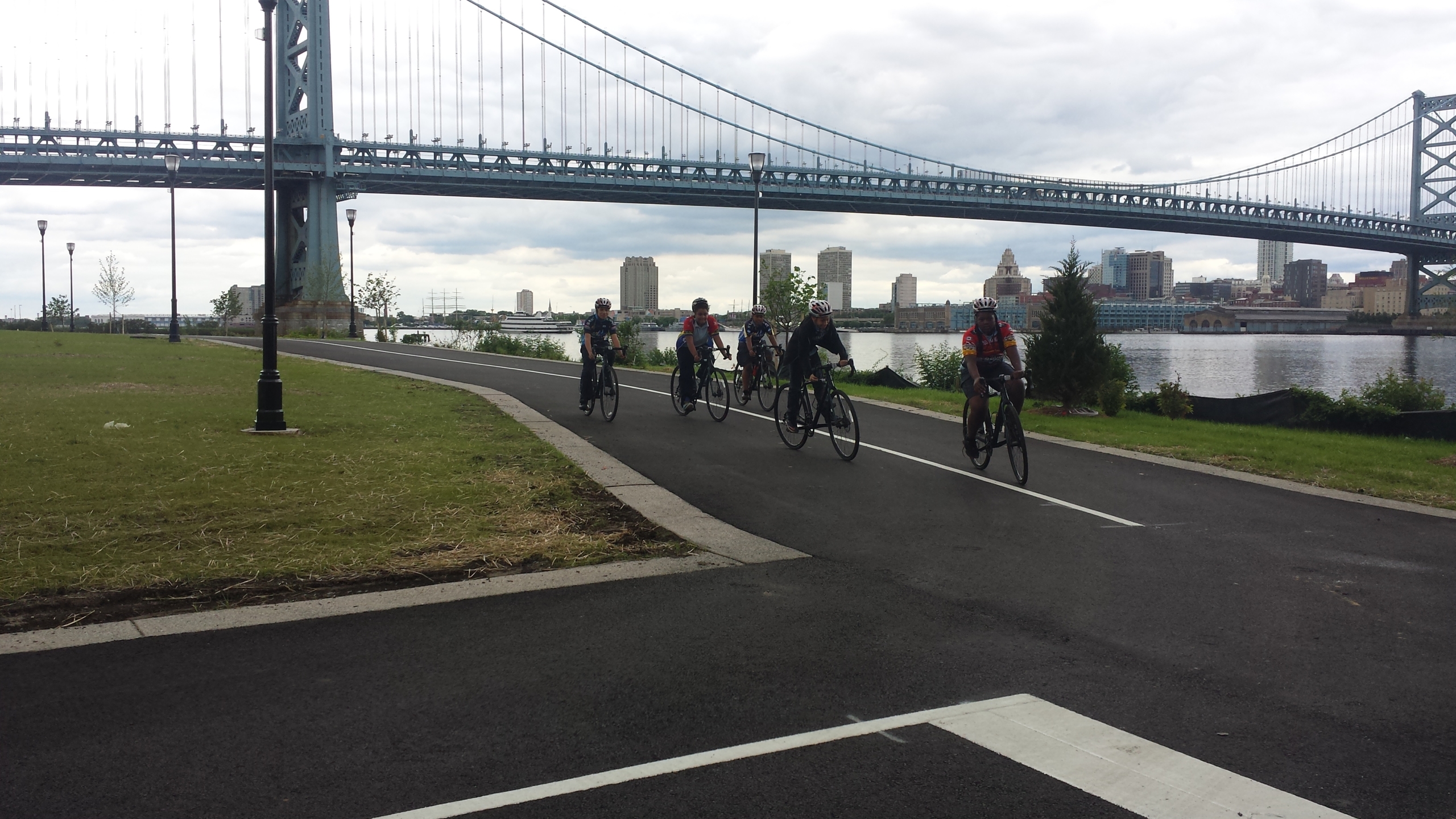 The rain couldn't dampen the mood (or spoil the view) at Monday's ribbon cutting ceremony for the Circuit's newest trail and community space at Cooper's Poynt Waterfront Park! Located directly on the Camden Waterfront just north of the Ben Franklin Bridge, the .4-mile, multi-use trail offers breathtaking views of the bridge and the Philadelphia skyline, and is the gateway to a brand-new, ADA accessible playground and plenty of green space for the community to enjoy.
A who's who of public officials and community leaders celebrated the opening on Monday, including Donald Norcross, U.S. Congressman, 1st District of NJ; Mayor Dana L. Redd, City of Camden; Jeffrey Nash, Camden County Board of Chosen Freeholders; Anthony Perno, Cooper's Ferry Partnership; Francisco Moran, Camden City Council; Maureen Hassett, NJ Economic Development Authority; and Rod Sadler, co-founder of Save Our Waterfront, all of whom had a role in bringing the park to the City of Camden.
From 1985 until 2009, the Riverfront State Prison limited access to the waterfront at the site where the park now sits. Public officials and community leaders worked for years to regain the site – some of the city's most valuable real estate – for the use and enjoyment of residents. As of this week, an area that was once a "roadblock to development" is now the bright spot of a neighborhood on the road to revitalization and residents of Camden are finally connected back to the riverfront for the first time in years.
Thanks to financing from the William Penn Foundation, the Wells Fargo Regional Foundation, the state's Department of Community Affairs, the Fund for New Jersey and the Camden Economic Recovery Board, Camden residents and visiting trail users, alike, will be able to enjoy the beautiful trail and its jaw-dropping views while walking, running or biking around the water's edge.
The park sits on five acres of open space and connects to surrounding Circuit Trails segments, including the Delaware Avenue Bike Lanes and Erie Street Sharrows, which allow for further travel into Camden and alongside its waterfront. Additionally, both trails connect to the Ben Franklin Bridge, allowing for easy access to Philadelphia and beyond. Additional, adjacent trail segments are currently in the planning phases, which will eventually enable seamless trail travel along the Camden waterfront and into other surrounding New Jersey neighborhoods.
Get out there and explore all that Cooper's Poynt Waterfront Park has to offer! And don't forget— register for the Circuit Trails 500-Mile Challenge so you can add those miles to your grand total before trail season ends on September 10! You'll be entered to win a new Fuji bike just by registering for the Challenge!