Four Easy Tips for Bike to Work Day 2019 #onthecircuit
Authored By: The Circuit Trails | May 13, 2019

Friday, May 17 is National Bike to Work Day! If you're going to take a two-wheeled commute to the office, remember that trails on the Circuit are an excellent way to get from place to place. Plan all or some of your route using the trails to ensure a safe, scenic and smooth ride. Not heading to the office? All good! Use this day to celebrate trails and biking by going for a spin on the Circuit Trails, and maybe explore a new route.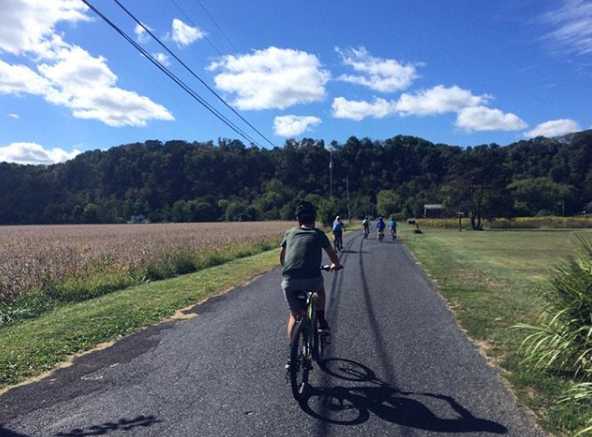 Photo by Instagram user @alinapuskar
Don't have a bike? Don't worry – you can rent Indego bikes all over the city. Before you get back in the saddle, check out these four tips basic biking tips to keep your ride safe and smooth:
Protect your head
Rule number one: always wear a helmet. Wearing the right gear can save you from a serious injury. In PA, state law requires that anyone under the age of 12 must wear a helmet on a bicycle, and in NJ, the state law requires helmets for all under 17. However, we highly encourage you to ALWAYS wear a helmet when riding, whether it be on a trail or on the road.
Ditch the headphones
Although music makes for a nice background while you ride, leave your headphones at home when you ride. Blocking out the noises around you can be extremely dangerous, especially if you miss out on emergency vehicle signals. If you need the music, opt for an external speaker to keep your ears open to all your surrounding sounds.
Know the rules of the trail and road
On the trails, make you sure always keep to the right and signal to pedestrians when you are passing them. However, if you travels take you off the Circuit and into the streets, be sure to obey all road signs and signals. Always use the bicycle lanes when available.
Keep your head up
Stay focused on what lies ahead. Keeping your head up allows you to react to obstacles in the trail, road or shoulder ahead of you.

In honor of Bike to Work Day, our friends at the Bicycle Coalition of Greater Philadelphia are hosting group rides, providing discounts and giving out freebies to celebrate Bike to Work and Wherever Day. See a full list of their events and offerings here. Don't forget to register too – this is your ticket to all the special discounts!
Be sure to share pictures along your ride, or even a selfie with fellow bikers you meet along the way using #onthecircuit and #biketoworkphl! Grab your wheels, tighten your helmet, and head out #onthecircuit for a great National Bike to Work Day! Happy riding!