Good Trail Etiquette Has Never Been More Essential Than It Is Right Now
Authored By: The Circuit Trails | April 23, 2020
This article was first published on Rails-to-Trails Conservancy's TrailBlog on April 2, 2020. Under current stay at home orders in Pennsylvania, many trails remain open. In New Jersey, while many locally managed trails are open, those managed by the state and counties are currently closed. You can check trail status or find contact information for local trail managers at TrailLink.com. For additional resources about maintaining physical activity while social distancing during COVID-19, visit railstotrails.org/COVID19.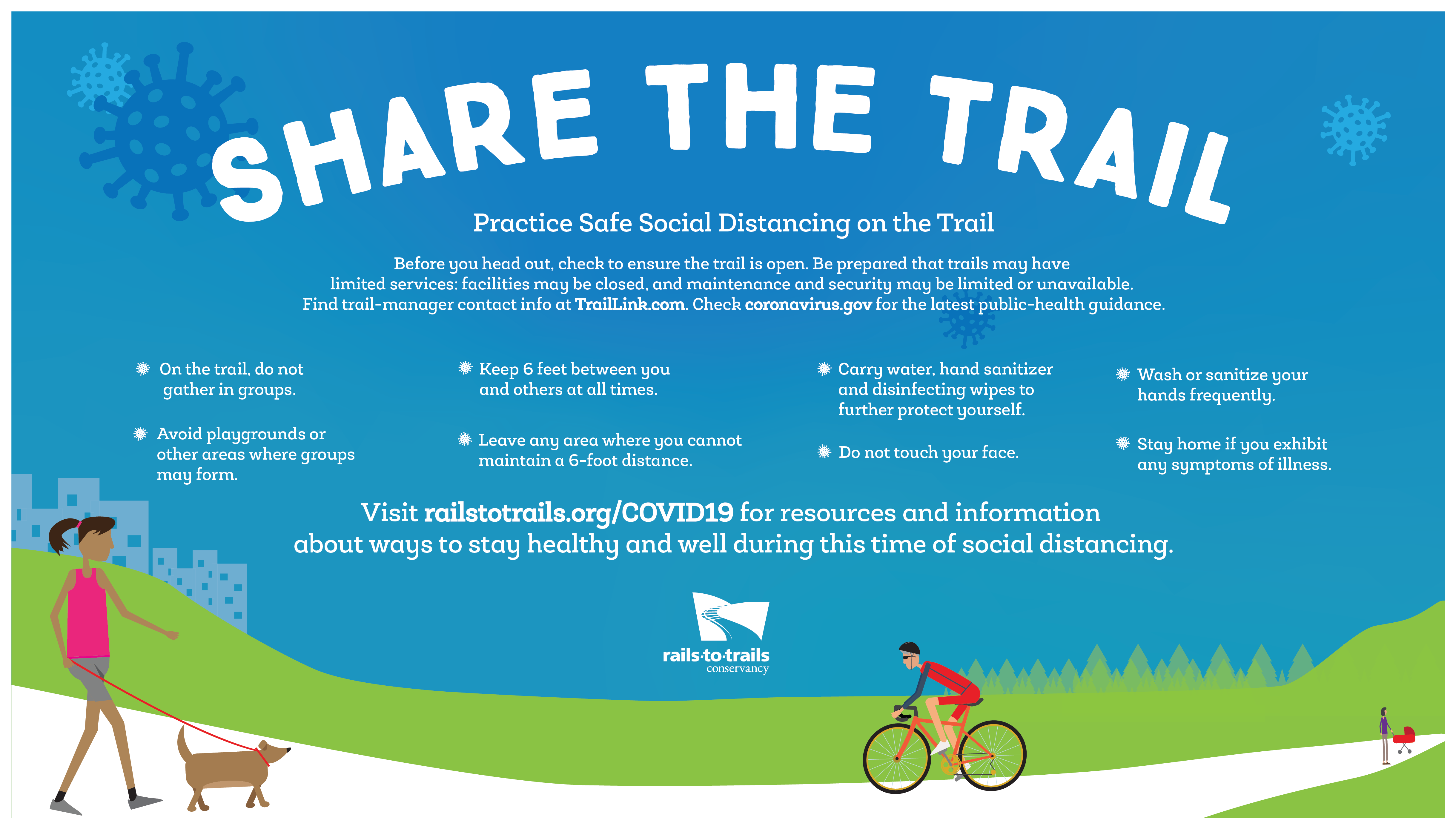 Share the Trail "Practice Safe Social Distancing on the Trail" banner in English | Download High Res
Right now, at least 261 million Americans are on orders to shelter-in-place or stay-at-home. The entire country is looking for ways to slow the spread of COVID-19, so extreme social distancing is in effect—meaning that we need to stay at home and leave our houses only for essential work and activities. For millions of people, this also includes outdoor exercise. And the search for safe ways to maintain wellness has led many people to outdoor places like parks and trails where they can walk, bike and be active.
On April 10, the CDC published recommendations for protecting oneself when visiting parks, trails and open spaces, so you can "Know Before You Go."
This includes:
Staying 6 feet away from others at all times.
Washing hands and using hand sanitizer.
Not congregating with others outside your household.
Avoiding playgrounds, water parks, or any and all crowded parks and trails
Keeping close to home (only visiting locations that are within a short walk or bike ride of home and avoiding going to open spaces that require longer travel)
Organized activities are not recommended.
The CDC further advises that people wear cloth face coverings (which can be made from household items) as an additional health measure in public settings, including outside spaces, where social distancing measures are difficult to maintain, and particularly in areas of significant community-based transmission.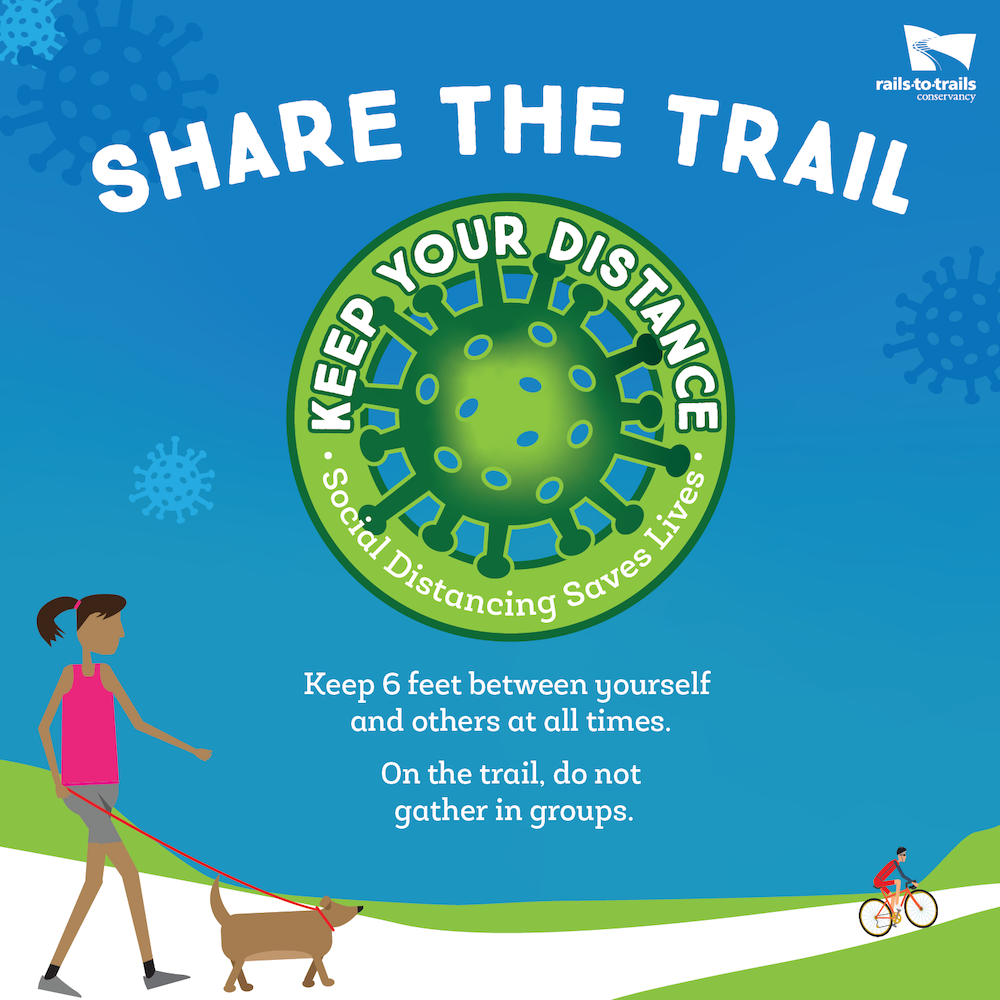 Share the Trail "Keep Your Distance" graphic in English | Download High Res
As many people have flocked to their local trails for physical activity and solace at a safe social distance, resulting surges in trail use, have put significant pressure on the nation's trail system, forcing many local elected officials and trail managers to close parks and trails, and limit facilities and services, to enforce social distancing measures.
Where trails are open—especially in areas where parks and other outdoor recreation facilities have closed—there has been an influx of new users and recognition that safe use and trail etiquette have never been so vital to the health of our nation.
"These activities make it clear that we've never needed our parks and public space as desperately as we do right now. But because it's so hard to be social and practice social distancing at the same time, it's going to take mindful behavior modification to adjust to the new reality," wrote Inga Saffron in a March 23 Philadelphia Inquirer column.
So what does this mean right now?
"It's about using good judgment on where and when we get our exercise outdoors, and how we engage—in a safe distance—with other trail users. We all need to follow the rules set by our local governments to keep ourselves and each other healthy and to keep our local trails open," said Brandi Horton, spokesperson for Rails-to-Trails Conservancy (RTC). "In this 'new normal' that may be upon us for some time, the way we share the trail with each other, and keep our distance, will go hand in hand."
Discovering Close-to-Home Trails for Safe Outdoor Activity
While many states and communities list outdoor exercise as an essential activity, they caution that people should find close to home opportunities to limit the spread of the virus, and to avoid the potential for issues that could put a strain on local emergency and medical resources. In some communities, trails and recreation facilities may have closed, limited services, and restricted vehicle access to mitigate crowding and to discourage visitors from outside the community. As a result, it is recommended that all trail users to check with local trail managers to confirm status of facilities prior to visiting, as well as with local government agencies for the most up-to-date public health guidance and laws
For those who are looking for places to be active outside and close to home, TrailLink, RTC's free trail-finder website and mobile app, provides  information on more than 37,000 miles of multiuse trails across the country. " The website and mobile app include trail maps, walking and biking directions to local trails, contact information for local trail managers, and status updates on trail facilities.
Additionally, trail users can consult local government and trail-manager websites found in these descriptions as means to find other potential local pathways and nature trails.
Share-the-Trail Rules and Safety Tips
As many rail-trails around the country have experienced diverse trail use for decades—from bicycling and horseback riding, to walking and wheelchair use—RTC has long urged everyone to learn and use good trail etiquette at all times to ensure safe experiences for all trail users. As new users flock to the trails, and as individuals and families continue to look to trails for outdoor activity, this mandate has become all the more critical.  Another element of good etiquette that is especially important as many facilities are experiencing limited staff and services, is to Leave No Trace–being mindful to carry out whatever you carry in with you to the trail or park.
RTC's suite of resources includes extensive tips for safe social distancing, from staying 6 feet from others and avoiding groups, to washing and hand-sanitizing frequently, and leaving trails immediately if social distancing can't be maintained.
Trail users are encouraged to learn the golden rules of safe trail use as people navigate pathways with more, and diverse, trail users, including the following:
Use Safe Speeds.
Keep Right, Pass Left.
Standing Still? Stand Aside.
Mind Your Pets.
Be Alert.
Know and Follow the Rules.
A collection of sharable information and resources, including videos, infographics and blogs are available on RTC's Share the Trail website.