Ideas for Self-Care, Connection and Love on the Trails This Valentine's Day
Authored By: The Circuit Trails | February 11, 2022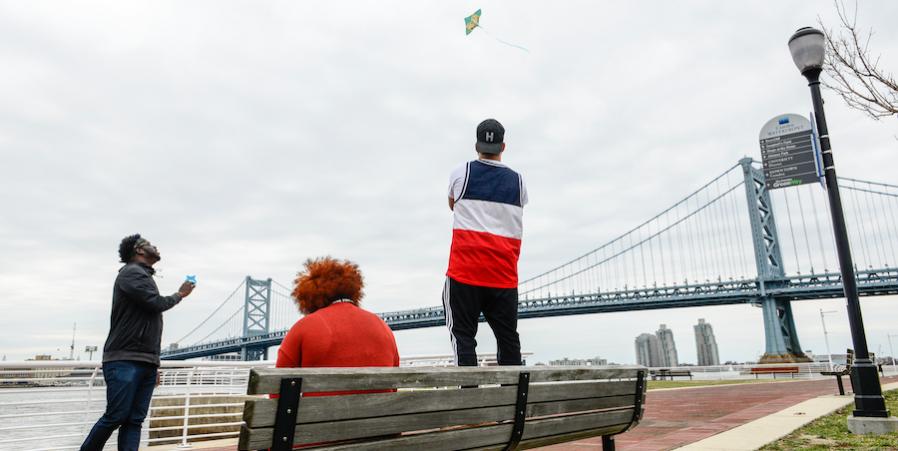 Camden Greenway | Photo by Laura Pedrick/AP Images
With love in the air this Valentine's Day, we wanted to highlight some of our favorite ideas to turn a cold February day into a meaningful one for you, a partner, family or friends. Love comes in many forms, so whether you need some solo time to unwind and recharge, want to plan some fun trail activities for a group outing, or wish to plan a Valentine's date or romantic proposal—we've got you covered #onthecircuit! One of the best things about trails is that they meet you where you are and can even lead you down a path to new adventures. Happy exploring!
Solo Self-Care Outings
Walk your dog. Dogs love exploring the Circuit Trails with their humans! Remember to practice good trail etiquette by keeping pets leashed and close by to respect other trail users.Here's a few paw-fect pups who are enjoying their trail adventures. We'd love to see photos of your furry friends' trail time. Tag us @thecircuittrails using #OnTheCircuit on social media and share your favorite doggo photos along the trail.
Search for artwork dotted along the Circuit Trails. If you're looking for something to brighten your day, check out our short list of murals and sculptures along the Circuit Trails in Pennsylvania and New Jersey. After your public art exploration along the trail, you can either continue your cultural education at the Philadelphia Museum of Art or stop at some breweries while reflecting on the day.
Group Trail Activities
Join a bird walk. Most of our trails #onthecircuit are great for birding, but the John Heinz Refuge Trails offer some of the best. Discover the more than 300 species of birds that use the Refuge during their migration routes. Join one of the center's weekend bird walks throughout February.
Explore a new trail with friends or family. If you haven't visited the Lawrence Hopewell Trail in Mercer County, you'll find that it's a great place to explore with a group. With 18 miles of trail, you will be able to spend plenty of quality time, whether that's a quick morning run, an afternoon bike ride or a relaxing evening stroll together. Stop to visit historical sites along the way including Hunt House, Brearley House and the Whiskey House. For more details on the full list of historical sites along the trail, visit the Lawrence Hopewell Trail's website.
Trail Dates
Enjoy a serene walk along a canal. The Delaware & Raritan Canal State Park Trail in New Jersey offers a scenic route along two canal systems. You and your sweetie will spot quaint wooden bridges and stone-arched culverts, which offer the perfect backdrop to take a photo together.
Explore a trail with river and skyline views. The Ulysses Wiggins Waterfront Promenade in Camden offers stunning views of the Delaware River, the Ben Franklin Bridge and the Philadelphia skyline. Capture a beautiful moment together with this vista as a backdrop.
Proposal Spots #onthecircuit
Sunset walk with a cityscape. The Ben Franklin Bridge Walkway allows you to have a love bird's eye view of Philadelphia, Camden and the Delaware River, and is accessible from both Pennsylvania and New Jersey. It's a shorter walk (1.6 miles) to either end. Start on one side and finish on the other with a celebration post-proposal at sunset to make this moment extra special.
An intimate stroll surrounded by nature. Wissahickon Valley Park Trail provides dense foliage, waterfalls, streams and opportunities to view wildlife. The trail's Forbidden Drive is a 7-mile gravel and asphalt path that offers a secluded space to ask your partner an important question. If you're looking for a paved experience, check out the Lincoln Drive Trail. After the proposal, explore historic sites and buildings along the route, including Historic Rittenhouse Town, the Wissahickon Environmental Center and the Morris Arboretum.
To All Trail Users This Valentine's Day
Winter weather around Greater Philadelphia and New Jersey can offer some wonderfully unique opportunities on the trail and it can also present some weather challenges. Before you head out on the trail this Valentine's Day, review these helpful winter etiquette and safety tips.
SHARE YOUR VALENTINE'S DAY TRAIL VISITS WITH US!
Send us some love this Valentine's Day by tagging us on social @thecircuittrails using #onthecircuit in your trail photos.