Massive Increase in People Using MLK Drive
Authored By: The Circuit Trails | May 29, 2020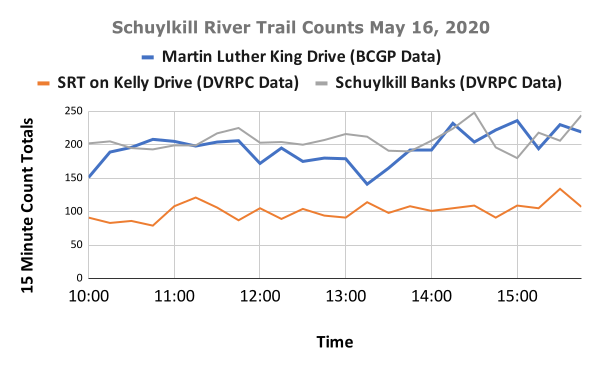 This blog was written by John Boyle, Research Director at the Bicycle Coalition of Greater Philadelphia, and it first appeared onthe Bicycle Coalition's blog in May 2020. This blog discusses the increased bicycle and pedestrian use of MLK Drive in Philadelphia, which is a street that runs parallel to the Schuylkill River Trail #OnTheCircuit. The Bicycle Coalition championed the cause to get MLK Drive closed to motor vehicle traffic during the coronavirus pandemic, essentially widening the trail to allow for more trail users to enjoy the area and safely social distance.
On May 16, Bicycle Coalition volunteers counted bicyclists joggers and strollers on Martin Luther King Blvd to measure the usage of the path — and have found, to the surprise of no one, a massive uptick in the number of people using the park road.
In March, we advocated for the closure to vehicular traffic of MLK Drive after finding that vehicular traffic decreased by 40 percent and the Schuylkill River Paths along Kelly Drive and at Schuylkill Banks saw increases.
Now, we wanted to see just how many more people were using the Open-to-People MLK Drive.
So, on May 16th, volunteers were positioned in front of the Center for Adaptive Sports at about 1.8 miles north of the Art Museum. We counted for a six hour period between 10 a.m. and 4 p.m.
Overall, we counted 4,400 people — or, nearly 800 users per hour with steady stream of traffic throughout the day. These numbers were about 25% higher than concurrent automated counts on the Kelly Drive Path and nearly identical to the Schuylkill Banks.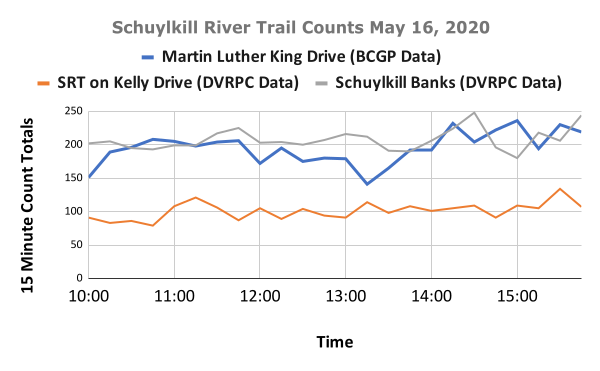 But it's more than just numbers.
With a combined trail and road width of 50 feet, MLK has about four times the breathing room than either of the trails. The crowd on MLK was diverse and children were biking and walking with their families; something that is increasingly difficult on any 12-foot path in the city, sidewalk, or unprotected bike lane. Open spaces, like MLK Drive, parks, and open streets, will become an important part of Philadelphia's recovery, and we hope the City of Philadelphia adopts the Recovery Streets platform, which is available to read and endorse at RecoveryStreets.org.
Next week, we will be conducting another count — this one on a weekday — along MLK Drive. Our goal is to continue to keep the Drive open to bicyclists and pedestrians to travel safely and comfortably during the recovery period.
As people return to work, the ability for people to commute by bicycle will be an important tool for transportation management given the concerns that they have of getting back on SEPTA while the risk for infection remains high. It will be important to understand whether MLK Drive should remain closed to motor vehicle traffic for an extended period of time, and perhaps indefinitely.