Opening Weekend for Trails – Valley Forge Revolutionary 5-Mile Run®
Authored By: The Circuit Trails | March 31, 2016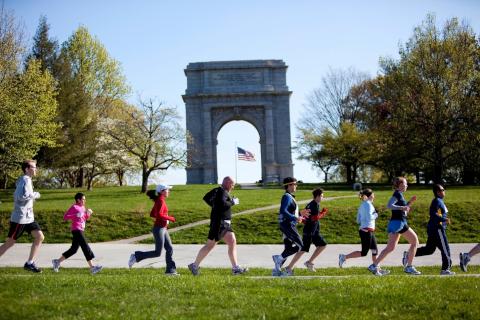 At the Circuit Trails we are all about connections – connecting trails, connecting communities, and connecting groups to make a greater impact. On Sunday, April 17 all roads (or trails) lead to Valley Forge and the collision of three exciting celebrations. Opening Weekend of the Circuit Trails, the 100th anniversary of the National Park Service, and Valley Forge National Historical Park's 40th year as a national park will all collide at the Valley Forge Revolutionary 5-Mile Run®.
The 5-mile run, presented by the Valley Forge Tourism & Convention Board, follows the Schuylkill River Trail as it weaves through Valley Forge National Historical Park #onthecircuit. The course will challenge your stamina and showcase our region's unique history as you tour the rolling hills and the historical gems that mark the site of General George Washington's 1777-78 winter encampment.
The scenic course steps off at 8:30 a.m. from the Muhlenberg Brigade, where General Peter Muhlenberg anchored the outer line of defense in preparation of a potential British attack. Runners also pass monuments of Revolutionary War notables such as General Anthony Wayne, Baron von Steuben and the Patriots of African Descent, as well as cannons, log cabins and the National Memorial Arch, which commemorates the service and sacrifice of the men and women of the Valley Forge encampment.
This is the perfect run to gather the family (including the dog) and set out to conquer the valley. To learn more, visit our events page here.