Pennsylvania Trails Month: Exploring Trails in PA Counties #OnTheCircuit
Authored By: The Circuit Trails | September 10, 2020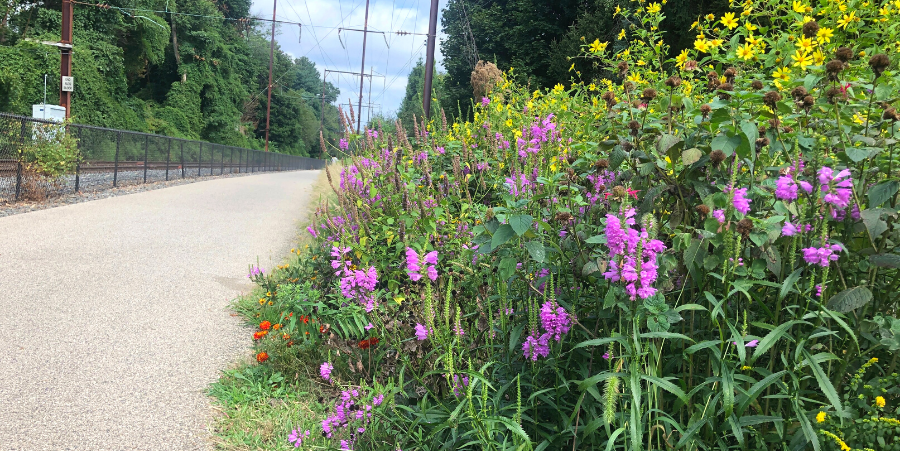 Anya Saretzky
September is National Pennsylvania Trails Month, and what better way to celebrate the miles of peaceful, adventurous and breathtaking trails in the Keystone state than by exploring a few of them #OnTheCircuit.
As you may know, the Circuit Trails network is comprised of more than 330 miles of trails in the Greater Philadelphia and South Jersey region. You can explore trails #OnTheCircuit in five different PA counties: Bucks, Chester, Delaware, Montgomery and Philadelphia. If you're looking for a quiet route with lots of trees, there's a trail #OnTheCircuit for that. Want to stay in the city, but also go hiking? We have a trail for that too! There's a trail in Pennsylvania for everyone and every type of adventure.
Start your adventure today by deciding which PA trail #onthecircuit you should explore! Need help choosing? We've highlighted one Circuit Trail in each of the five Pennsylvania counties for you to narrow down your decision.
Before you go, make sure to review local and national guidance to keep yourself and others safe on the trails. While out, please maintain a least six-feet of physical distance from others, avoid gathering in groups, bring a cloth face covering, #RecreateResponsibly and practice proper trail etiquette. Refresh your trail safety knowledge and trail etiquette here.
Bucks County: Peace Valley Park Hike & Bike Trail
Just north of Doylestown you'll find the scenic and serene 4-mile Peace Valley Park Hike & Bike Trail. Positioned along the shores of Lake Galena in Peace Valley Park, the paved trail travels through woodlands and meadows on a mostly flat route that is ideal for families. The park is a popular birding spot, and with the numerous species of flora and fauna, more than 250 species of bird have been spotted including bald eagles and other birds of prey.
Chester County: Struble Trail
Small but diverse, the 2.6-mile Struble Trail is a well-used route that is popular with bike commuters, walkers, cross-country skiers, and even horseback riders on the undeveloped sections. The path follows a corridor established by the East Brandywine Railroad Company and travels from Norwood Road at Kardon Park in Downingtown to Dorian Mill Road in Dorian, and there are plans calling for the future continuation of the trail north. Want more trail to explore? From the Struble Trail it is possible to connect with the 2-mile Uwchlan Trail #OnTheCircuit.
Delaware County: Radnor Trail
Nestled into the suburban area of Greater Philadelphia, the Radnor Trail offers a tranquil space to escape the hustle and bustle of the big city. Coming in at a total length of 2.4 miles, the route is an easy trip that gives you plenty of space to clear your head. The trail follows the former corridor of the Philadelphia and Western Railway Company, which was founded in 1902, so there is plenty of history to uncover as you explore the trail.
Montgomery County: Cynwyd Heritage Trail
Immerse yourself in and walk through history along the 2-mile Cynwyd Heritage Trail. Along the trail find several informational signs that provide historical details about the area's industrial past. This popular route runs northeast from SEPTA's Cynwyd Station, passing Bala Cynwyd Park and West Laurel Hill Cemetery, before ending at Belmont Avenue at Rock Hill Road. Clear quarter-mile markers and side-by-side gravel and asphalt paths make the Cynwyd ideal for both runners and cyclists, and even cross-country skiers will enjoy the trail in the winter months. From the Cynwyd it is easy to connect to the Manayunk Bridge Trail and provides a connection to the popular Schyulkill River Trail.
Philadelphia County: Ben Franklin Bridge Pedestrian Walkway
If you're looking to experience breathtaking views, the Ben Franklin Bride Pedestrian Walkway is the trail for you! Linking Philadelphia and Camden, the walkway offers a short off-road route over the Delaware River. Did we mention that the sunrise and sunset from the bridge makes for the perfect photo opp? Don't forget to snap some pics for your next Instagram post. For those who want to explore a longer trail, you can connect to other trails #OnTheCircuit from the walkway including the Ulysses Wiggins Waterfront Promenade in Camden that will soon connect to the currently in-progress section of the Delaware River Trail from Washington Avenue to Spring Garden Street in Philadelphia.
If you love the trails in Pennsylvania, let us know! We're seeking your support to show the community the importance of our more than 330-mile network of multiuse trails. Your support can help us continue to advance the progress of trails #OnTheCircuit to reach our short-term goal of completing 500 miles of trails by 2025, and it can also win you great prizes such as Circuit swag, Hydro Flask hydration packs and more! Showing your support is as easy as posting on social media, sharing this tweet, sending an email to your local representatives or joining our email list.
Don't forget to take pictures while you are exploring and celebrating Pennsylvania Trails Month! Let us see how you spend time on the Circuit Trails by tagging us on Facebook, Twitter and Instagram and using the hashtag #OnTheCircuit in your posts.