Schuylkill River Trail and Bartram's Garden Voted Top Trail Destinations in the United States
Authored By: Circuit Trails Coalition | March 4, 2021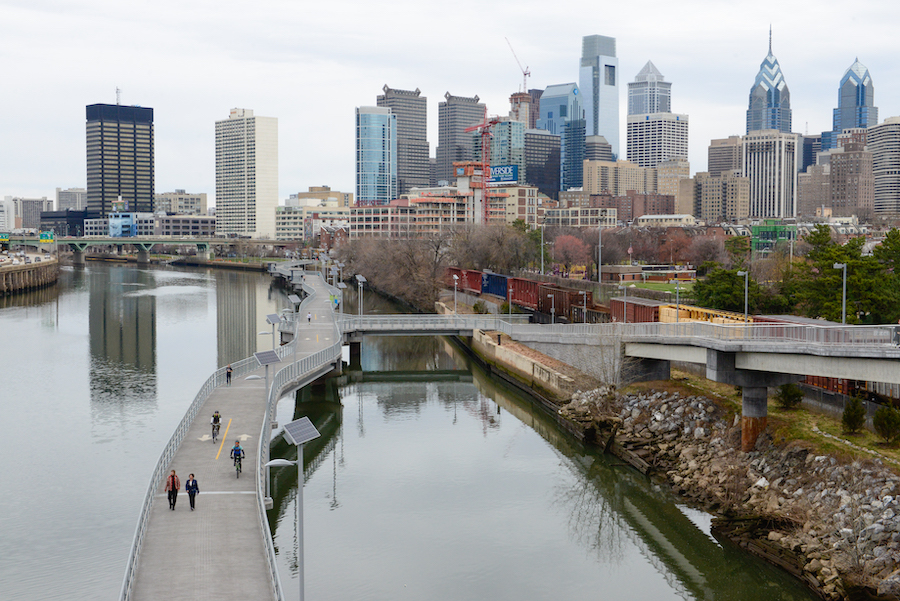 Schuylkill River Trail - Photo by Laura Pedrick/AP
We are excited to announce that two Pennsylvania trails have won top spots in USA Today's 10 Best Travel Awards! The Schuylkill River Trail was awarded third place in the Best RiverWalk category and Batram's Garden was awarded fourth in the Best Urban Kayaking Spot category. Both locations are part of or along the Circuit Trails, a developing world-class regional trail network connecting Greater Philadelphia and South Jersey, and offer visitors unique views, activities and experiences.
The incredibly popular 71-mile multiuse Schuylkill River Trail (SRT) encapsulates the rich history and geography of southeastern Pennsylvania and follows the route of old canals and the Pennsylvania Railroad that historically hauled resources out of the anthracite coalfields. One of the trail's main features is the 2,000-foot Schuylkill Banks Boardwalk, which travels 50 feet out over the river between Locust Street and the South Street Bridge. A 30-mile stretch, which begins at the boardwalk's northern end and heads to Valley Forge National Historical Park, offers many attractions to visitors, including the Philadelphia Museum of Art, Boathouse Row and the 2,000-acre Fairmount Park.
"We are thrilled that so many people voted for the SRT—people who recognize what an extraordinary and unique asset we have in this region. The SRT offers bikers, runners and walkers the opportunity to experience every different kind of trail—urban, industrial, suburban and rural. In addition, it connects incredible historic and cultural resources including the city of Philadelphia, Valley Forge National Historical Park, historic industrial towns like Phoenixville and agricultural landscapes in Berks and Schuylkill Counties. The SRT is one of the most important economic drivers in southeast Pennsylvania  and we are so grateful that our residents enjoy it and support it," said Elaine Paul Schaefer, executive director of Schuylkill River Greenways.
Bartram's Garden is packed with activities and attractions for trail users, including tours of botanist John Bartram's 1728 home and a kayak launch point with art installations along the Lower Schuylkill River. Community events are held at the Eastwick Pavilion, which has beautiful views of Center City, framed by the river. Bartram's Garden is also a host to a substantial urban farm and orchard, which the trail runs directly through. The Gardens themselves—the oldest botanical gardens in North America—offer substantial opportunities (through programming or DIY trips) for birdwatching, tree identification, picnicking, boating events, theater and cultural events, weddings and more.
"The lower tidal Schuylkill River is indeed a beautiful spot for kayaking and we're delighted to be recognized by the community. The Philadelphia–Camden Riverways Collaboration that we belong to offers amazing on-water programs to explore the Delaware and the Schuylkill rivers. As temperatures warm up and we emerge from the pandemic, check www.riverways.org for ways to get back out on kayaks safely to enjoy the beauty of these waters," said Maitreyi Roy, executive director of Bartram's Garden.
The Schuylkill River Trail and Bartram's Garden will soon be connected via a swing bridge, which is currently under construction.  This connection will serve as a major step forward in the build-out of the Circuit Trails network; when complete, the network will eventually encompass 800 miles of trails on both sides of the Delaware River, building upon the region's existing active transportation infrastructure. By the time it is complete, which is expected to be in 2040, more than 50% of the region's population—more than 3.1 million people—will live within a mile of the Circuit Trails.