Seven Ways to Start Your Summer #onthecircuit
Authored By: The Circuit Trails | June 13, 2019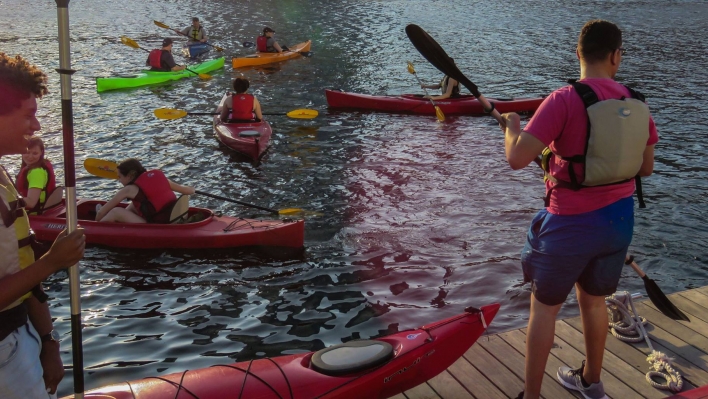 Summertime is one of the best times of the year #onthecircuit! This year, there is no shortage of events happening from PA to NJ, and we want to help you get in on all the fun. Check how you can start your summer off on the right foot by spending it #onthecircuit with these seven activities and events!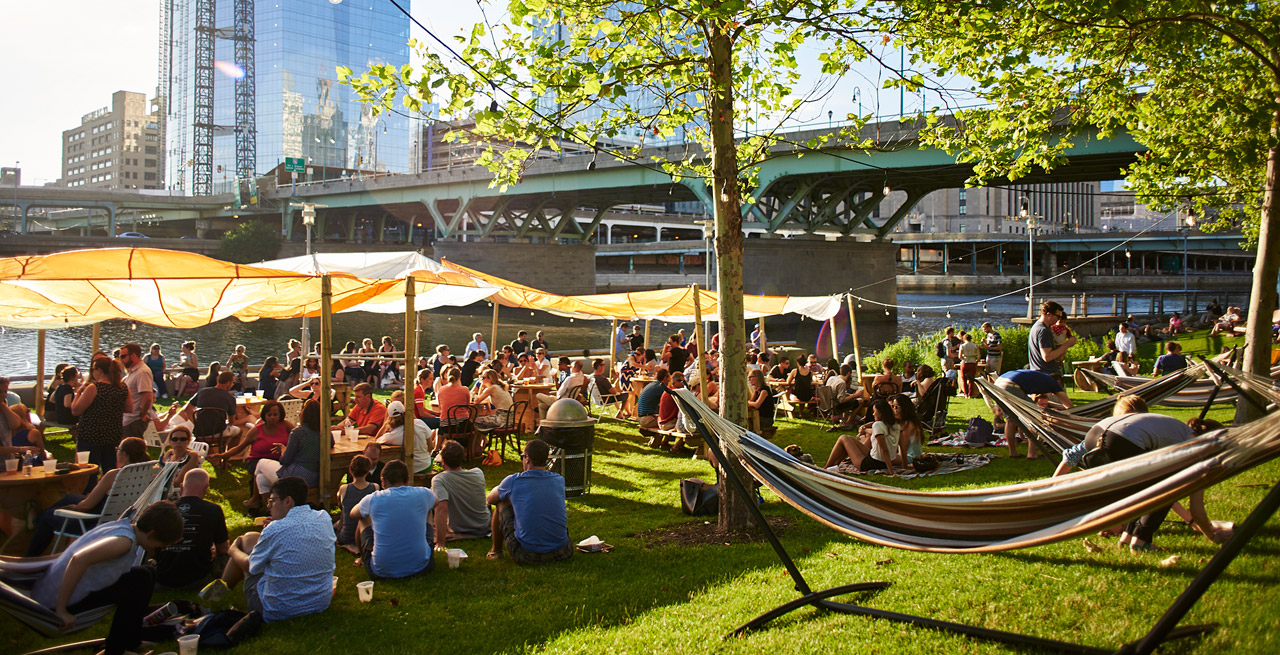 Photo by A.Yee for the Fairmount Park Conservancy
1. Refresh Yourself at Parks on Tap
Sip, sip, hooray! Parks on Tap, Philadelphia's traveling beer garden, is coming back #onthecircuit this summer. If you aren't familiar with Parks on Tap, allow us to introduce you! Parks on Tap aims to engage the Philadelphia community and give back to the neighborhood parks. They provide fresh food, beer on tap, wine, snacks, and non-alcoholic beverages in a festive outdoor environment featuring comfortable chairs and hammocks, and clean restrooms. What more could you ask for?
Check out Parks on Tap at one of these locations #onthecircuit this summer:
And remember – if you plan on drinking, please don't drink and ride!
2. Explore and Win During The Circuit Trails Scavenger Hunt
This one is a can't miss – spend your summer as a #CircuitExplorer participating in the Circuit Scavenger Hunt! The search starts this Saturday, June 15 and run until September 20. Travel the trails using our interactive treasure map to discover hidden gems #onthecircuit with the goal of completing the items on our Scavenger Hunt Checklist. Get in the game for your chance to win prizes like water bottles, t-shirts, Circuit swag and even a new bicycle! Sign up for our newsletter to get all the latest news about the Scavenger Hunt and more.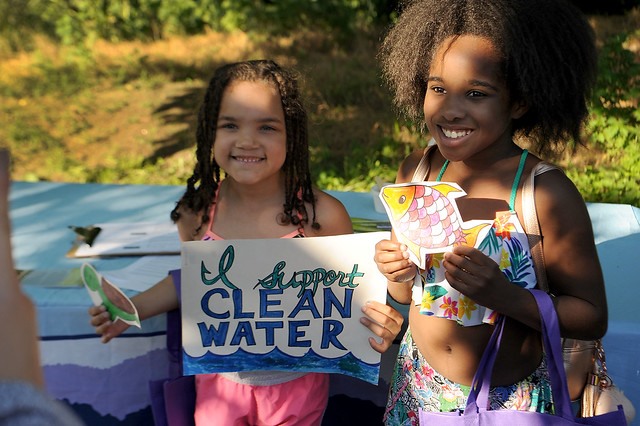 Photo courtesy of TTF Watershed Partnership
3. Celebrate With Neighbors at A Block Party in the Park
Party your way into summer with TTF Watershed Partnership's 6th annual "Celebrate Your Park, Discover Your Creek" free summer block party series. Bring the whole family to the Tacony Creek Park on the Tacony Creek Trail to learn about the park through family friendly activities. No Philadelphia block party is complete without soft pretzels and water ice, so don't worry you'll be able to enjoy them for free during the events!
Join TTF Watershed Partnership and your local community member at one of these Summer Block Parties: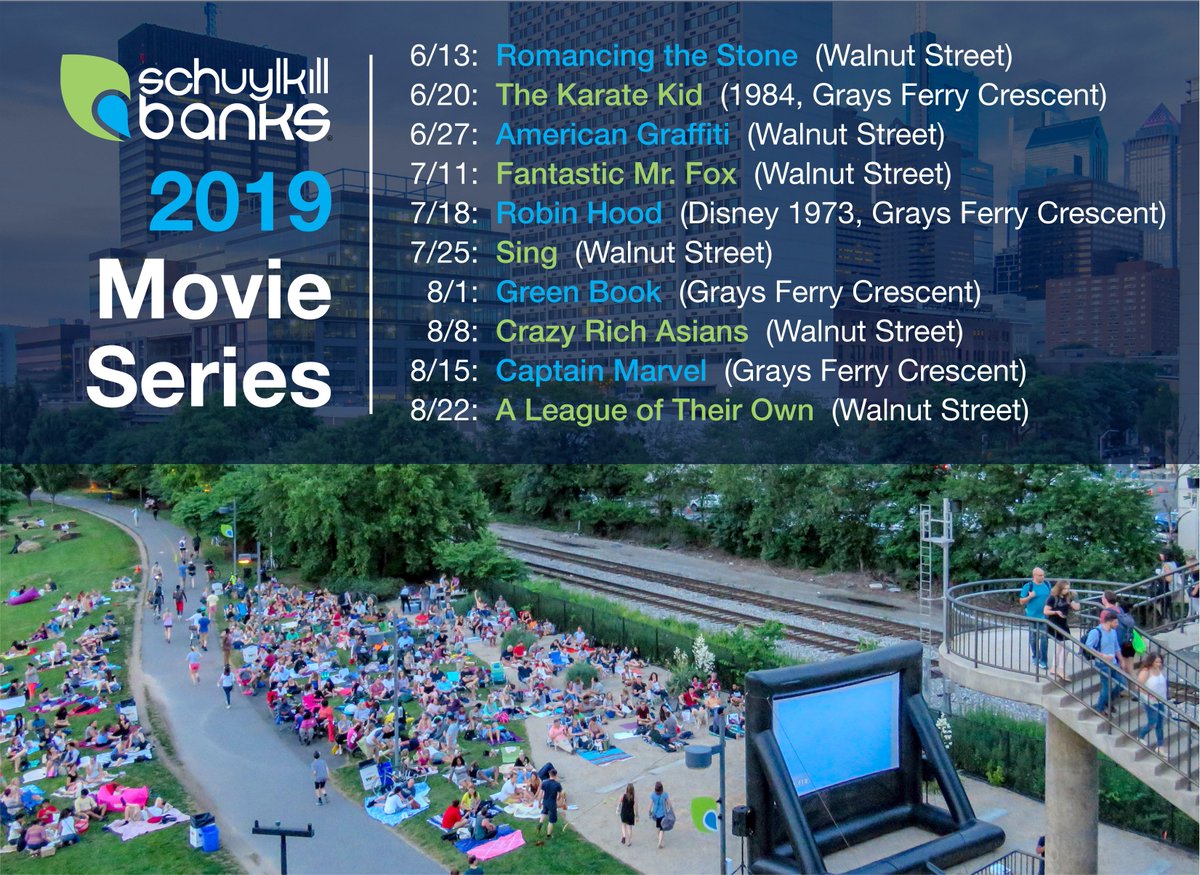 Photo courtesy of Schuylkill Banks
4. Stroll Up to the Schuylkill Banks Movie Series
Want to watch movies under the moonlight? You're in luck! Schuylkill Banks has a fabulous line-up of new and classic movies they'll be showing for free on the Schuylkill River Trail #onthecircuit. Bring your friends, blankets and picnic baskets for a great time watching movies under the stars. All movies start at sunset, so don't be late.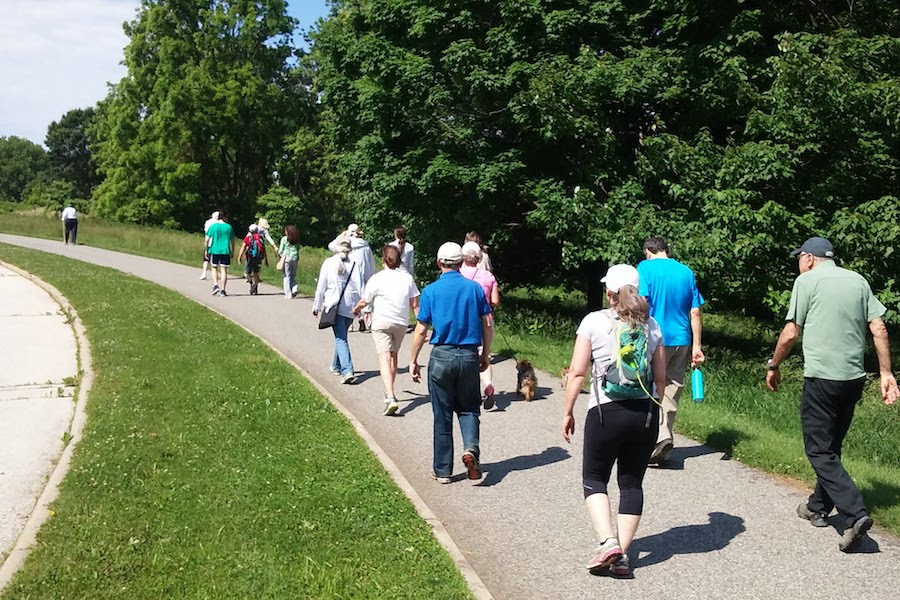 Photo by Roy Perry
5. Lace Up and Hit the Trails at Prescribe-a-Trail Walks
Take some time this summer to focus on you. Walk into a healthier lifestyle by joining us for one of our Prescribe-a-trail free community walks. Put on your walking shoes to gear up for a brisk walk #onthecircuit with a health practitioner who will share information and advice on ow to achieve maximum health. Each walk has its own topic, so feel free to attend more than one walk!
Try one of these upcoming prescribe-a-trail walks: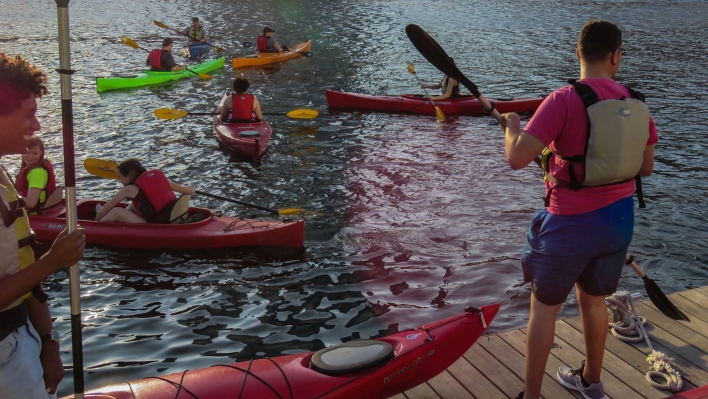 Photo courtesy of Schuylkill Banks
6. Hit the Water for Kayak Tours
Let the trails #onthecircuit lead you to our region's serene waterfronts! Whether you're an advanced boater or a first-timer, set sail on the Schuylkill River for a basic kayak tour professionally guided by Hidden River Outfitters. All tours depart from the Walnut Street Dock under the Walnut Street Bridge on the Schuylkill River Trail. Spice up your typical kayak trip and see the Philadelphia skyline lit up at night with one of the moonlit kayak tour options. These trips happen quite frequently throughout the summer, view the calendar of events to pick your tour here.
On the Jersey side, you can launch your own kayaks, canoes and other small boats into the Delaware River from a few access points along the Delaware and Raritan Canal State Park Trail. Don't have a boat? You can rent canoes in Princeton.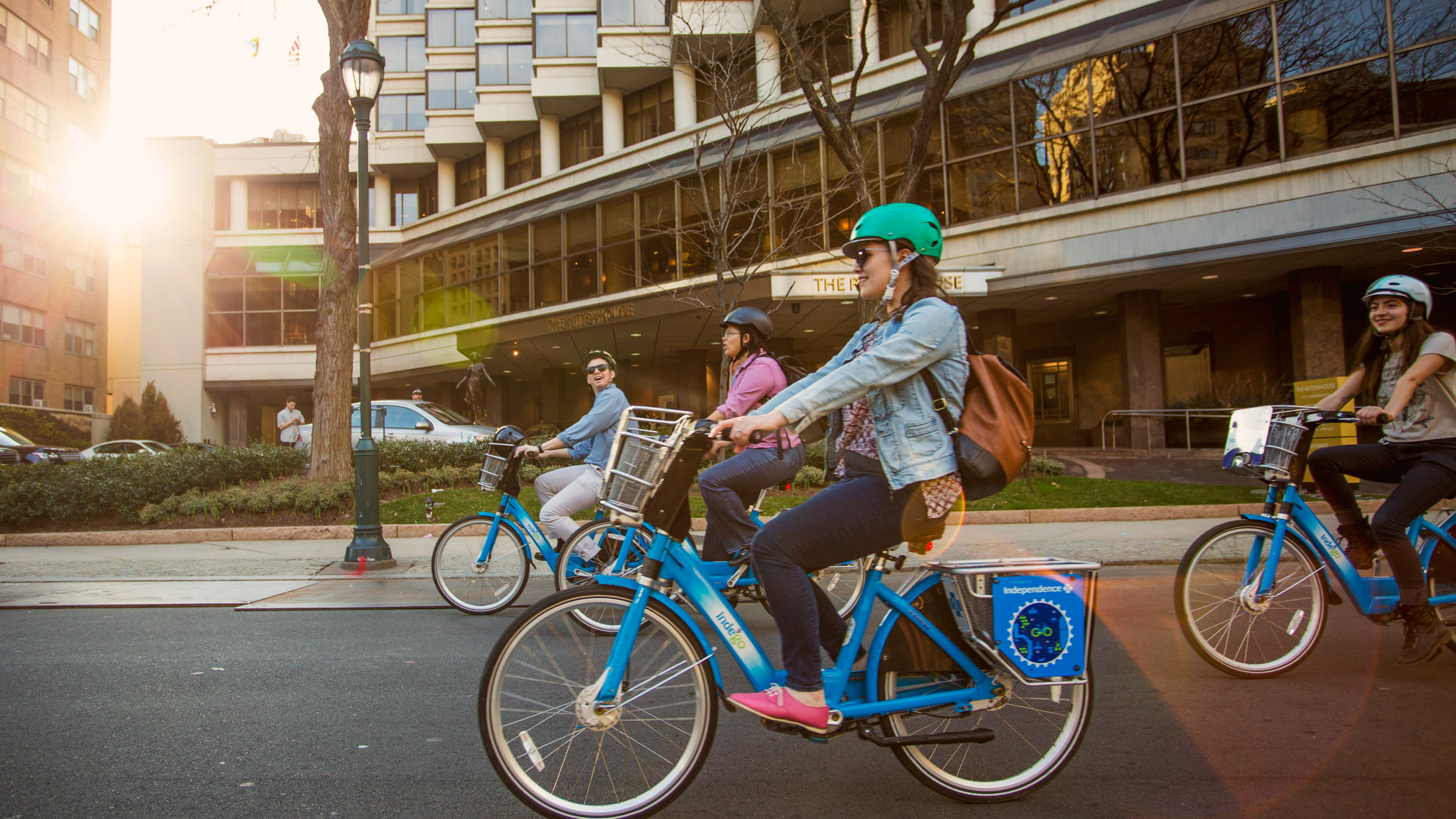 Photo by M. Fischetti for Visit Philadelphia
7. Take a Two-Wheeled Ride and Rent an Indego Bike
You don't have to own a bike to ride the Circuit. Through the city of Philadelphia, you can rent Indego bikes to roll through town. Pick up an Indego Bike at Race Street Pier and venture across the river to Camden using the Ben Franklin Bridge Pedestrian Bike and Walkway, including the newly opened ADA-accessible ramp. While in Camden, ride along the Ulysses Wiggins Waterfront Park Promenade to take in the views of the Delaware River from the other side. Find an Indego station near your favorite trails #onthecircuit here.
What summer activities are you looking forward to #onthecircuit? Let us know on social media by tagging us in your adventures with #onthecircuit! Don't forget to follow us on Facebook, Instagram and Twitter.