Spring Garden Street Connector Secures Design Funding & More!
Authored By: Sarah Clark Stuart | August 8, 2022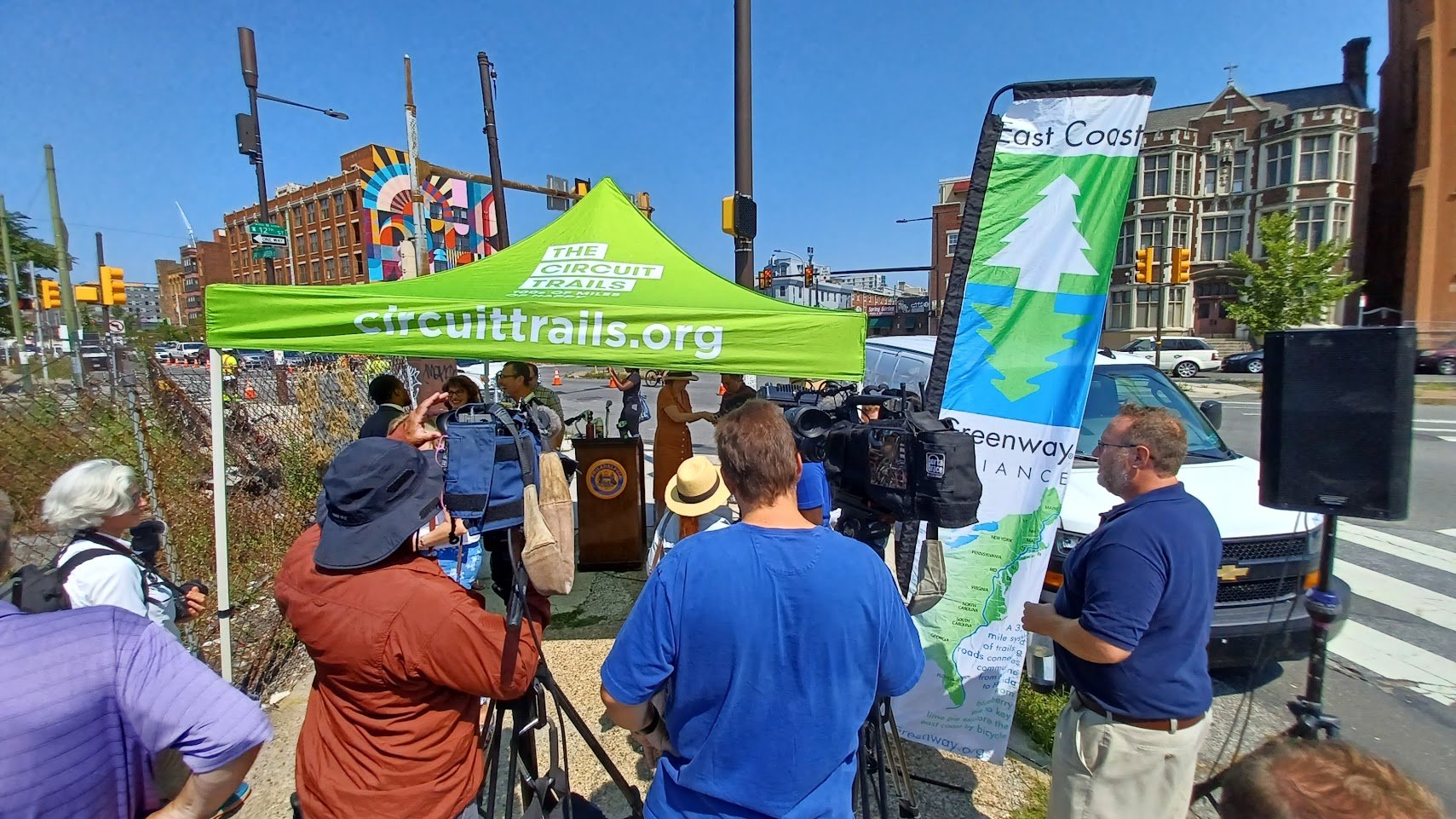 This blog was originally published by The Bicycle Coalition of Greater Philadelphia on Aug. 4, 2022.
The hot weather didn't deter a large crowd from gathering at the corner of Spring Garden and Ridge Avenue on Aug. 4 to hear a major announcement from the City of Philadelphia, the Commonwealth and the William Penn Foundation about their combined efforts to make it possible to kick off the design of the Spring Garden Street Connector.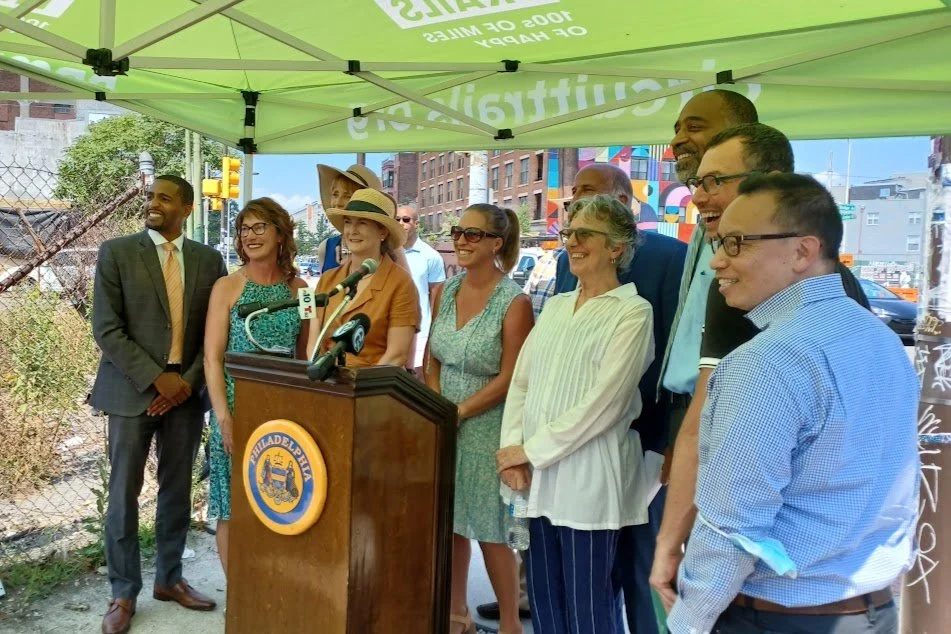 (from left to right) Dr. Darren Lipscomb of Community College of Philadelphia, State Rep Mary Isaccson, DCNR Secretary Cindy Dunn, BCGP Executive Director Sarah Clark Stuart, West Poplar Neighbors Rachel Collins Clark, Shawn McCaney, Executive Director of the William Penn Foundation (hidden) Councilman Mark Squilla, Callowhill Neighborhood Assn Board President Sarah McEneaney, Deputy Managing Director Mike Carroll, PEC Executive Vice President Patrick Starr and Philadelphia Chinatown Development Corporation Executive Director John Chin.
This project began as an effort in 2007 to find the right corridor for the East Coast Greenway through Center City.  Spring Garden Street was selected from 13 corridors to be where improved bike lanes and pedestrian access would link together the Central Delaware River and the Schuylkill River Trails. After over 10 years of planning and community engagement efforts conducted by the Pennsylvania Environmental Council and the Streets Department and Office of Transportation, Infrastructure & Sustainability, a preliminary design was presented in 2020 to not only provide a critical 2.1 mile segment of the East Coast Greenway, but to upgrade signals at 22 intersections to improve safety, improve access to bus stops & subway stations, and provide sustainable stormwater infrastructure. The Circuit Trails Coalition made Spring Garden Greenway its top trail priority for Philadelphia County, and it also was one of PA Department of Conservation & Natural Resources's top 10 trail gaps. In 2021, over 1100 persons signed a petition to Mayor Kenney urging him to find the funding to cover the next stage of development: final design & engineering.
At today's press conference, the reveal was that the City of Philadelphia ($2 Million), PA DCNR ($1 Million), and the William Penn Foundation ($2 Million) were each committing funding to cover the $5 million cost for design and engineering.  Additionally, the City of Philadelphia allocated $26 million for construction of Phase I into the FY2023 Transportation Improvement Program for PA, which was just approved last week.
Things happen when we work together across sectors and partners.  We are grateful to the many many people (City, State, Federal and regional staff, private sector partners and advocacy partners) who worked hard to bring this project to this exciting stage.  We will be tracking progress and reporting on how the project moves along through these next phases.  Check out the City of Philadelphia's webpage on the project here.