Take Action: Call on your County Commissioners to Prioritize the Circuit Trails
Authored By: Patrick Monahan | Regional Organizer for the Bicycle Coalition of Greater Philadelphia | May 19, 2023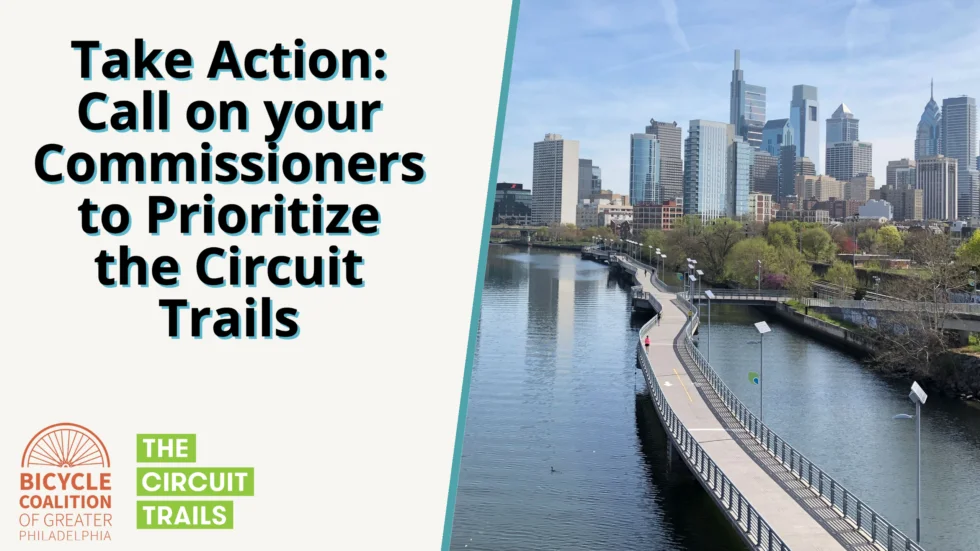 This blog originally published on the Bicycle Coalition of Greater Philadelphia's blog on May 12, 2023.
In the Greater Philadelphia and South Jersey area, trails and active transportation networks are essential infrastructure for equitably addressing the most pressing issues facing our region–from economic development, to climate resiliency, mobility, and bicyclist and pedestrian safety. In order to accelerate the development of the regional network, we need your help to make this a priority.
That's the motivation for the Circuit Trails Coalition's vision to connect the region's trail network across nine counties and 800 miles. While nearly 380 miles are completed, the Coalition has a goal to reach 500 miles by 2025. In March, the Bicycle Coalition published the 4th edition of the Moving the Circuit Forward report that includes Circuit projects that have been identified as ready for federal or state funding by members of the Circuit Trails Coalition. The good news is that the trail projects are there to reach that goal. What we need is for this infrastructure to be prioritized for investment and construction.
The Circuit Trails Coalition is rallying support across the region to all county commissioners and council members to prioritize the connectivity of trail and active transportation networks, incentivizing the acceleration and maintenance of this infrastructure to make it safer, more accessible, and more convenient to walk and bike; and to ultimately create more equitable economic and quality-of-life opportunities for everyone who lives here.
You can help by making sure your county commissioners or council members are on board. Send a letter today by selecting your county from the list below.
Pennsylvania
New Jersey