Walking for Wellness #OnTheCircuit
Authored By: The Circuit Trails | August 29, 2022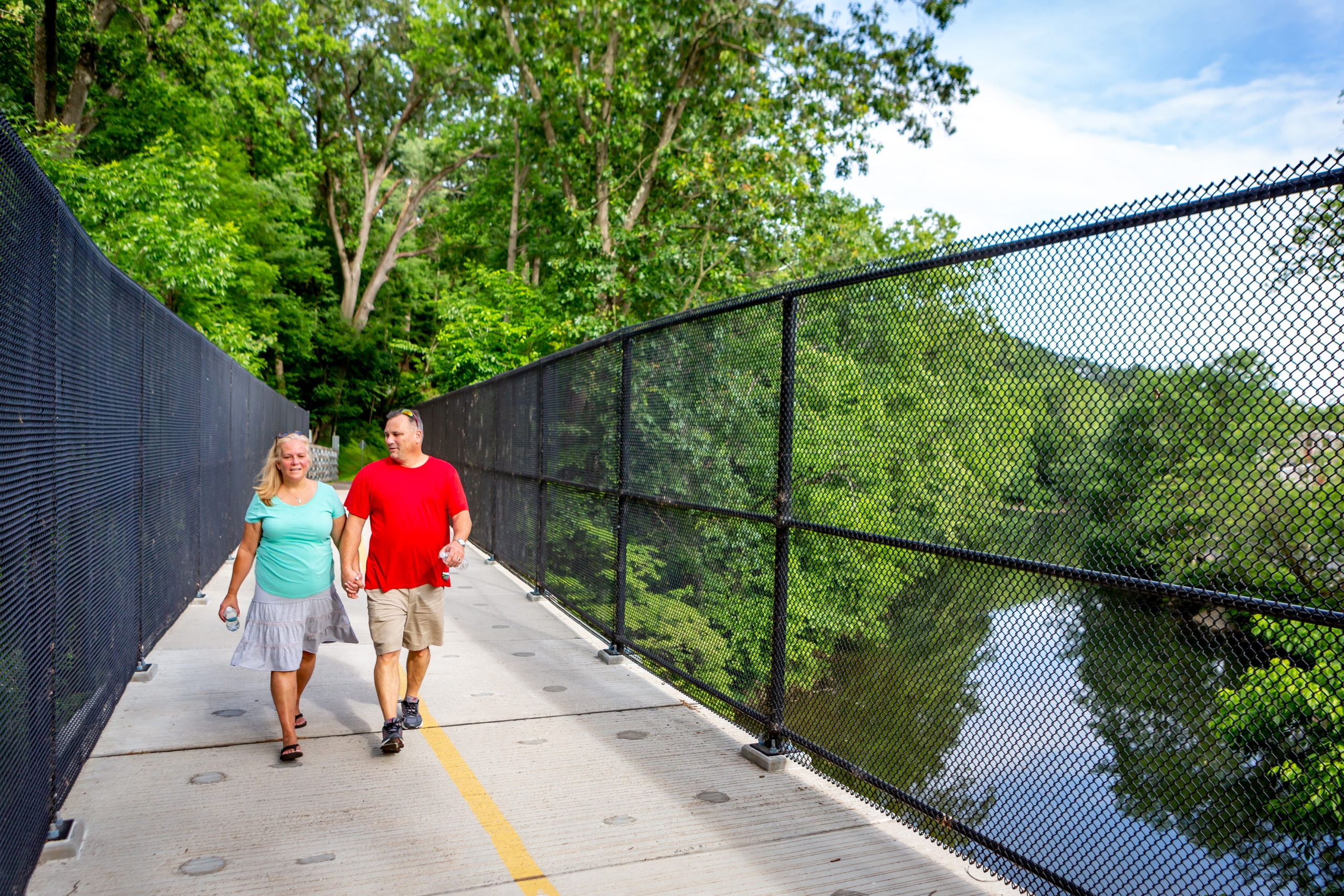 Did you know just 30 minutes of walking per day can alleviate a range of health concerns related to both physical and mental well-being? It's true, and since it's a low-impact from of exercise, it's one of the simplest ways to stay active while being gentle on your body.
Walking is one of the best ways to relieve stress and can actually reduce cortisol levels, which have been linked to a variety of mental-health disorders, including anxiety and depression. It doesn't only benefit your mental health—walking is good for your physical health too! Walking just half an hour a day can improve your cardiovascular fitness, strengthen your bones and help reduce your risk of some diseases.
In addition to all of its health benefits, walking can be a great way to get around, explore your community and enjoy the outdoors. And with more than 370 miles of trails on the ground and counting, the Circuit Trails network offers plenty of places to walk around the region. So, put on your walking shoes and check out six trails #OnTheCircuit that you can walk for wellness or whatever!
Ben Franklin Bridge Pedestrian Walkway
If you're looking for a beautiful view of the city, then the Ben Franklin Bridge Pedestrian Walkway is the perfect trail for you. This 1.5-mile walkway offers pedestrians and cyclists an off-road route between the City of Brotherly Love and Camden, New Jersey. Take in the views and join the hundreds of thousands of travelers who pass over this bridge each and every day.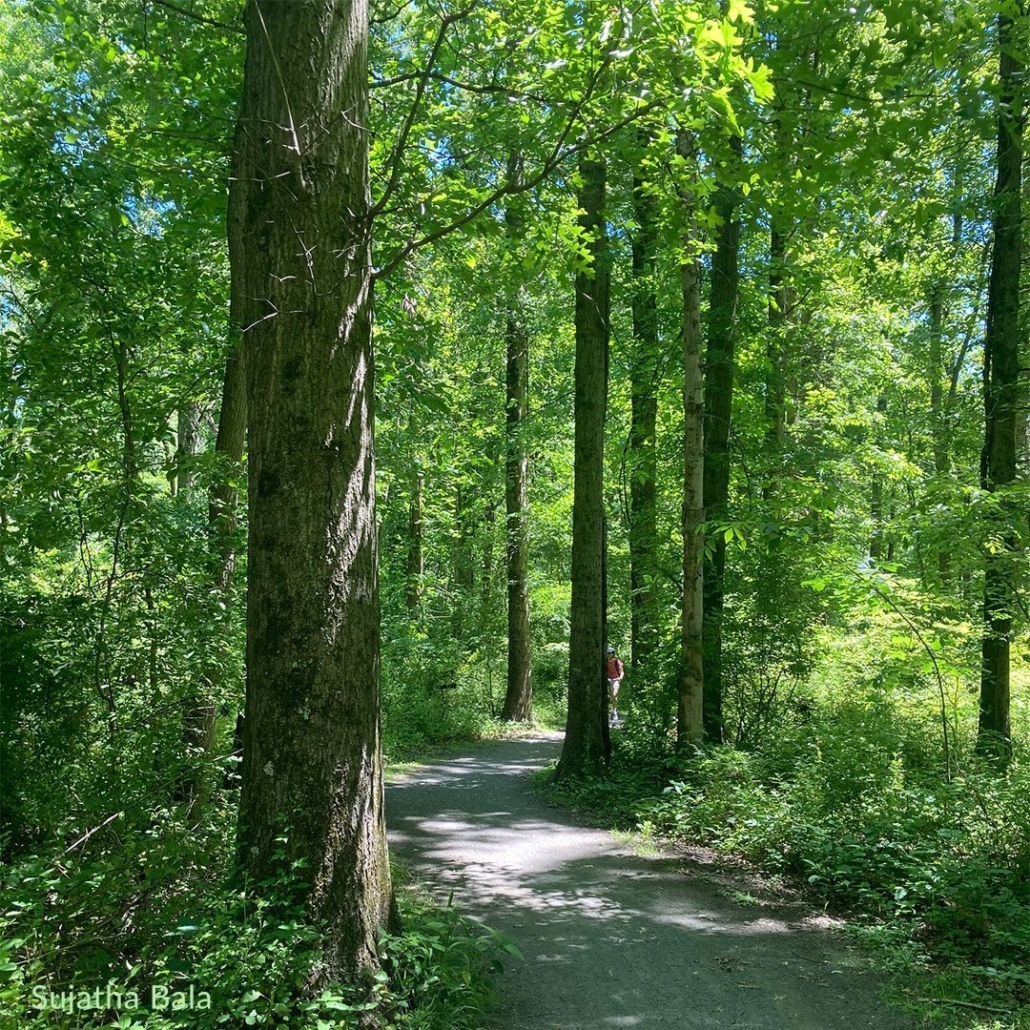 Photo of the Lawrence Hopewell Trail by Sujatha Bala
Whether you want to enjoy views of farmlands and woodlands, stop to visit historic sites or spend time with nature at one of the many parks, the Lawrence Hopewell Trail has something for you. Located in Mercer County, New Jersey, the limited inclines and mostly off-road trail makes this the perfect walking spot for the whole family.
Following its namesake river, the Brandywine Trail immerses trail users in 2.5 miles of beautiful natural surroundings. Enjoy a peaceful walk through meadows and forests, stop to explore the M. John Johnson Nature Center or dip your toes in the cool river on a hot summer day as you walk along one of Chester County's most historic trails.
Are you looking to get out of the city? The 2.4-mile Radnor Trail located in Delaware County offers a tranquil break from the surrounding area and features a tree canopy to keep walkers cool on hot summer days. With many historical landmarks along the way, this trail is sure to keep walkers coming back for more.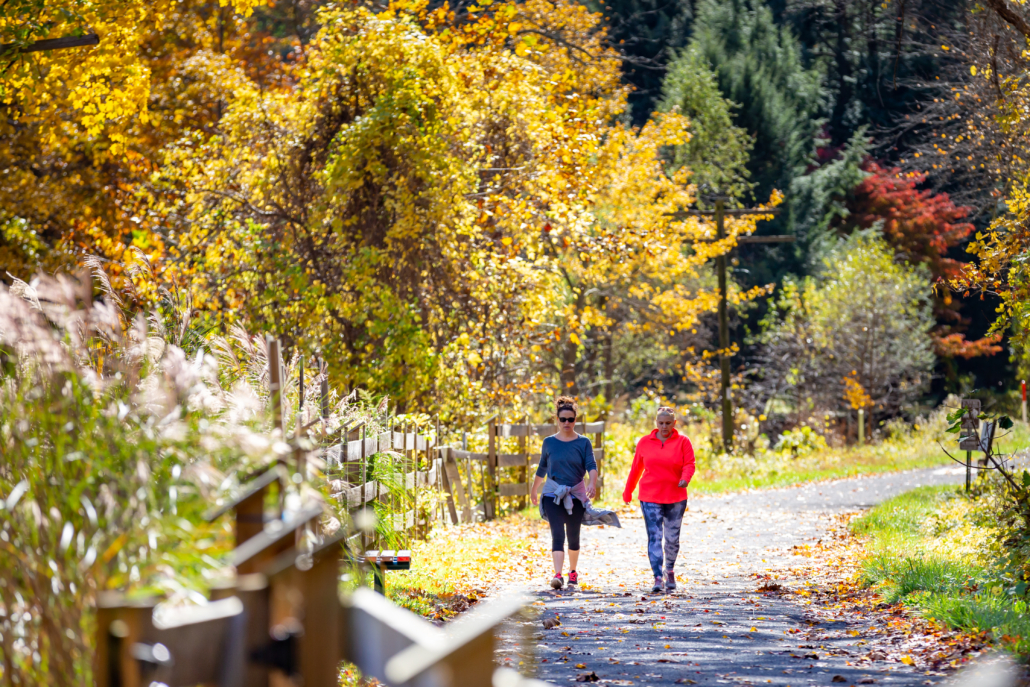 Photo of the Pennypack Trail by Thom Carroll
Increase the intensity by walking along Philadelphia and Montgomery County's 14-mile Pennypack Trail. This trail incorporates scenic and historic views with hilly routes headed north, adding a slight challenge for those who are looking for a more vigorous walking path.
Doylestown Bike & Hike Network
This network of over 16 miles allows visitors and locals to explore historic Doylestown and the surrounding areas. Linking the charming downtown area with neighborhoods, parks and various other sites, including the Aldie Mansion and the Country Theatre, this trail is packed with landmarks for walkers to explore.
Whether you're looking for a scenic route or a quiet escape from reality, these trails are sure to offer something for you to enjoy. As the summer comes to an end, we hope you'll continue to take time to get outside on the trails and make your health and self-care a priority. The next time you have 30 minutes to yourself, lace up your sneakers and get #OnTheCircuit.