Wrapping Up 2018 #onthecircuit
Authored By: The Circuit Trails | December 20, 2018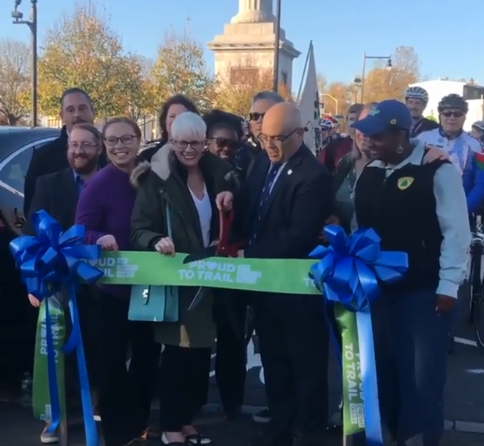 It's that time of year again! The holidays are quickly approaching and the year is coming to a close. Are you already thinking about your New Year's resolutions? Before we can look ahead to what developments 2019 will bring, let's look back at the funding wins, trail celebrations and action-packed events that kept us busy #onthecircuit this year!
In January, the Bicycle Coalition of Greater Philadelphia Introduced TASCC.
Our friends and partners at the Bicycle Coalition of Greater Philadelphia were especially busy this year! Technical Assistance for Suburban Circuit Communities, aka "TASCC", is a strategic effort established to aid suburban local activists and decision-makers who want to connect their community to The Circuit. The TASCC program seeks to remedy this situation by providing technical assistance to local communities so that they can identify "low stress connections" to the nearest Circuit segment. Read more about the installation of TASCC here.
In February, we fell in love with the Circuit!
For this year's Valentine's Day, we offered up some unconventional plans. Why not go off the beaten path and onto the Circuit Trails to celebrate this day of love? Maybe you can use these plans to create some new holiday plans this December! Revisit our date suggestions #onthecircuit to get some holiday inspiration here!
In March, funding was granted to close a key gap in the Schuylkill River Trail.
The United States Department of Transportation awarded the City of Philadelphia with a $12M grant to close a major gap in the Schuylkill River Trail! When it's completed, the now-funded Christian to Crescent Connector – located just south of the newly opened South to Christian segment – will connect to Gray's Ferry Crescent Trail, and ultimately lead directly into Southwest Philadelphia. Read more about this funding here.

In April, we celebrated Opening Day for Trails with some unlikely weather.
Despite winter weather wanting to stick around longer than usual, we were excited to kick off our Annual Rails to Trails Conservancy Opening Day for Trails celebrations on the Circuit Trails. Whether you were biking, hiking, dancing, cleaning up or anything in between, we hope you had a wonderful first day back #onthecircuit. In total, we celebrated 28 events across seven counties. Remember the excitement by read through our event recap here! We also kicked off our Circuit Trails scavenger hunt o run through September. In the end, more than 400 trail lovers explored destinations connected #onthecircuit!
In May, PA State Senator John Yudichak started to hike the entire 165-mile long D&L Trail!
After making a promise to hike the entire length of the Delaware and Lehigh Trail if the Philadelphia Eagles won the Super Bowl, Pennsylvania State Senator John Yudichak followed through. He began his trek on May 8 in Bristol, PA #onthecircuit, where we saw him off in style, and he completed the walk on July 13. See our recap of his 165-mile long adventure here!

In June, we introduced Philadelphia Watershed Ice!
The summer heat was a perfect backdrop for our "Philadelphia Watershed Ice" collaboration with Little Baby's Ice Cream, Bartram's Garden, the Tookany/Tacony-Frankford Watershed Partnership, the Circuit Trails, WHYY's PlanPhilly. These local organizations came together to survey the distinct neighbors and communities of Tacony Creek Park and Southwest Philadelphia to determine the water ice flavors that best represent the history and immigration patterns of the people living in these areas. We tasted the varied cultures and heritages #onthecircuit during interactive community events featuring the special flavors. Read more about this flavorful project here.
In July, Philadelphia County adopted the Circuit Trails 500 Mile Resolution.
This was a major win – it meant that six of the nine Circuit Trails counties have now adopted the resolution, and in total, 4.8 million people in our region are represented by a government that supports the growth of the Circuit Trails network. Today, we are so proud to say that eight of the nine counties are signatory governments! Read more about it here.
In August, our scavenger hunt superstar Tom completed the entire scavenger hunt map.
Tom took our Go. Do. Discover #onthecircuit Scavenger Hunt to the next level by visiting all 52 mapped out destinations. From breweries to butterfly houses, he saw it all! Revisit his interview here to learn what inspired him to complete the hunt!
In September, we held an Open House to display trail projects in Northwest Philadelphia and Lower Merion.
There are numerous trail and canal projects underway in several Northwest Philly neighborhoods, Lower Merion and Whitemarsh Townships that will build out the Circuit over the next three to six years. In all this excitement, we partnered with the Bicycle Coalition of Greater Philadelphia to a community open house to inform the public about the status of these various projects. Read more about the developments here.
In October, Halloween has been celebrated #onthecircuit with many spooktacular events.
Throughout October, there were plenty of haunting events happening #onthecircuit to celebrate Halloween. One of these events was the Lawrence Hopewell Trail's 4th Annual Trail & Treat Ride, which was attended by more than 200 children! Take a look back at the frightful festivity here.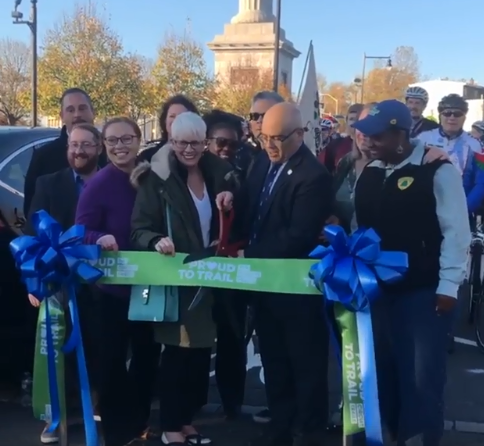 In November, 1.5 miles was added to the Circuit with the completion of the Trenton Wellness Loop Bicycle Lanes.
The Wellness Loop features on-street bike lane striping, signage and wayfinding through Trenton's downtown. The Loop will connect to a larger trail segment that will reconnect the D&R Canal Towpath through Trenton's streets to a section of the D&R Canal in Hamilton Township. Relive the excitement by reading about the trail opening here!
In December, we helped you prepare your ride for the upcoming winter weather.
It's always good to be prepared ahead of time. Although we haven't seen much snow in the Greater Philadelphia area yet, it's never too early to learn a few tips and tricks that can help prevent your ride from taking a beating in the wild winter weather. Brush up on you winter bike maintenance here.
Recapping all the progress made #onthecircuit this year has us excited for what is to come in the New Year! Be sure to show us how you are wrapping up 2018 on the Circuit by posting on social media and tagging us. Cheers to another year of riding, walking and running #onthecircuit!