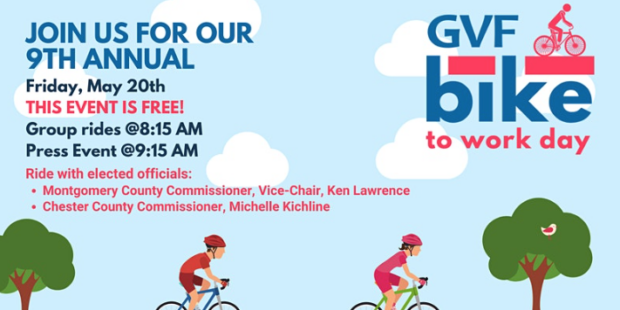 Date/Time
Date(s) - May 20, 2022
8:15 am - 10:00 am
Location
1400 N Outer Line Dr, King of Prussia

Date and time
Fri, May 20, 2022
8:15 AM – 10:00 AM EDT
Location
Valley Forge National Historical Park
1400 N Outer Line Dr
King of Prussia, PA 19406
National Bike to Work Day is a way to advocate for a more sustainable transportation option – biking.
About this event
As employees begin to return to the worksite, we hope you will join us to help promote and encourage biking within our region. Our trail network is a critical lifeline to providing access to all. Our counties continue to invest in connections that will improve mobility for our region.
THIS EVENT IS FREE!
Please join us on Friday, May 20, 2022, for our next Bike to Work event!
Group rides start @ 8:15 AM | ride locations listed below
Press Event Begins @ 9:15 AM | Location: Valley Forge National Historical Park | Student Pavilion, 1400 N Outer Line Dr. King of Prussia, PA 19406
Speakers:
Chester County Commissioner, Michelle Kichline
Montgomery County Commissioner, Vice-Chair, Ken Lawrence
CHESTER COUNTY RIDE
Meet up: Taylor Alley Lot, Phoenixville (click the map)
When: Group ride departing at 8:15 am
How: Approx. 7 miles on the Schuylkill River Trail south to Valley Forge Park
MONTGOMERY COUNTY RIDE
Meet up: Norristown Transportation Center
When: Group ride departing at 8:15 am
How: Ride approx. 5 miles on the Schuylkill River Trail north to Valley Forge Park