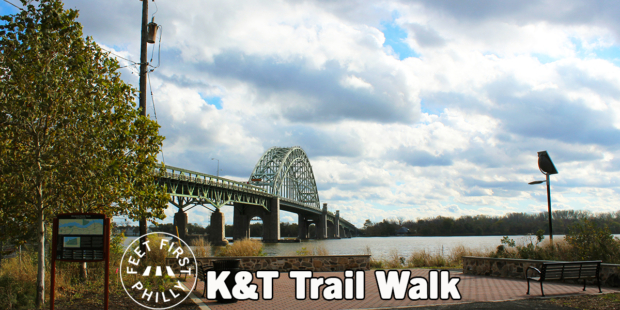 Date/Time
Date(s) - December 4, 2022
10:00 am - 11:15 am
Location
5501 Tacony Street, Philadelphia, PA, 19137
Join Feet First Philly and Riverfront North and Explore The K&T Trail Along The Delaware River in Northeast Philadelphia
Explore the Northern Delaware Riverfront with a one mile walk (two miles total, out and back) along the present-day Kensington and Tacony (K&T) Trail.
This trail segment is part of the 11-mile greenway that was the vision of founding members of Riverfront North Partnership and the City of Philadelphia to transform once neglected post-industrial landscapes into usable community space.  Riverfront access and the recreational opportunities it provides has been cut off from nearby Northeast Philadelphia neighborhoods.  Riverfront North has been working with the City of Philadelphia since 2004 to not only build the greenway, but also help steward and activate the 7 (soon to be 8) parks along this stretch from Allegheny Avenue to the Bucks County line at Glen Foerd Mansion.
We'll meet at the Frankford Boat Launch, look for the employee entrance to Dietz and Watson.  Please note this is a seasonal park that is closed seasonally, however a RNP staff person will meet you at the yellow gate to let your vehicle through.  If you arrive after 10am, you will have to park along the driveway.
This walk is about 1 mile one-way, two miles total.  We'll walk along a protected, multi-use trail and will explore the industrial remnants (some that still exist) and the historical context of these connections along the riverfront.
Date: Sunday, December 4, 2022
Time: 10:00 AM
Rain date:  None
Meeting Point:  Frankford Boat Launch, 5501 Tacony Street, Philadelphia PA 19137.  This location is along the Septa Bus Route 84.
Walk distance: 2 miles total
Walk total time:   1 hour 15 minutes to allow for a slower pace and conversation
Walk Leader(s):  Jennifer Dougherty, Feet First Philly and Gina Craigo, Riverfront North Partnership
Partner organizations (if any):  Riverfront North Partnership together with Philadelphia Parks and Recreation is responsible for sustaining the riverfront trail and network of parks along the Delaware River between Allegheny Avenue north to the Bucks County line.  We provide residents with unparalleled recreation, community building, and environmental education activities. We believe that every resident of Philadelphia has the right to enjoy safe public access to the riverfront. More information can be found at RiverfrontNorth.org.