Date/Time
Date(s) - September 14, 2022
4:00 pm - 6:00 pm
Location
1101 E Cayuga St, Philadelphia, PA, 19124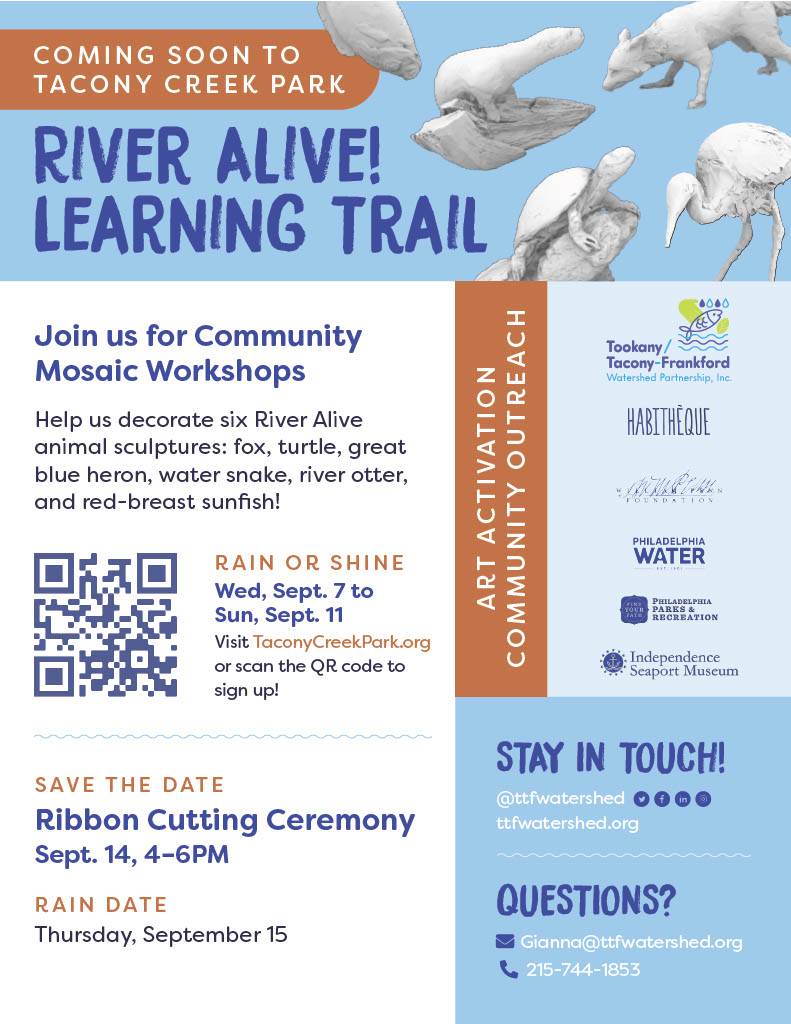 "River Alive! Learning Trail" Ribbon Cutting Ceremony
Ceremonia de apertura
Sept. 14 (Rain date – Sept. 15), 4-6PM
1101 E. Cayuga Street
Philadelphia 19124
FREE! ¡GRATIS!
River Alive! Learning Trail is a new and exciting way for families to enjoy green space together while engaging with the natural environment all around them in Tacony Creek Park!
Six benches and animal sculptures will be placed along Cayuga Street in Juniata Park to connect you to Tacony Creek: fox, fish, turtle, heron, water snake, and a river otter.
Each sculpture will include an interactive water feature, song, and sign. Poetry will connect the six stations along the trail, too! Some of the messaging will be water activated, appearing during rainfall or when you pour water on the ground.
River Alive! Learning Trail es una forma nueva y emocionante para que las familias disfruten juntas de los espacios verdes, mientras interactúan con el entorno natural que los rodea en Tacony Creek Park.
Se colocarán seis bancos y esculturas de animales a lo largo de Cayuga Street en Juniata Park para conectarlo con Tacony Creek: zorro, pez, tortuga, garza, serpiente de agua y una nutria de río.
Cada escultura incluirá un componente interactiva con agua, una canción y un letrero. ¡La poesía también conectará las seis estaciones a lo largo del sendero! Algunos de los mensajes se activarán con el agua y aparecerán durante la lluvia o cuando viertas agua en el suelo.