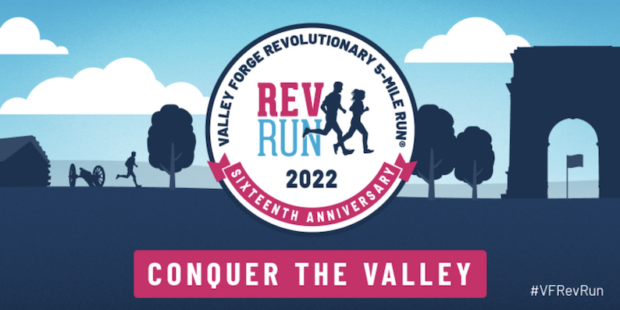 Date/Time
Date(s) - April 24, 2022
8:30 am - 12:00 pm
For 15 years, the Valley Forge Revolutionary 5-Mile Run ® has been a unique challenge for runners of all skill levels. Runners trek a five-mile, USAF-certified course that traverses the scenic Valley Forge National Historical Park. The 16th Annual Rev Run falls over National Park Week and all proceeds from the race go directly back into Valley Forge National Historical Park to enhance the visitor experience and support our local national treasure.
Since its inception in 2006, Rev Run has raised $500,000 for Park infrastructure improvement projects and programming to enhance visitor experience.
*In 2021 the we decided to make Rev Run virtual due to the COVID-19 pandemic. Runners and walkers from 24 different U.S. states, Germany, and the Netherlands virtually. Due to record-breaking registration, virtual participation will remain an option moving forward.
HERE ARE YOUR OPTIONS:
In-Person:
Join us in-person at Valley Forge National Historical Park on April 24th 2022

Events include: 5-Mile Run and 3-Mile Walk
Virtual:
Pick your course! Run your 5-mile race anywhere in the world between April 16th – April 24th 2022

After completing the race, results should be submitted through your RunSignUp profile
It is an honor and a privilege to serve this community and park. Together, we make a difference and we hope you'll Conquer the Valley with us in 2022.
Valley Forge National Historical Park
Race Start Time 8:30
If you have any questions about this race, click the button below.