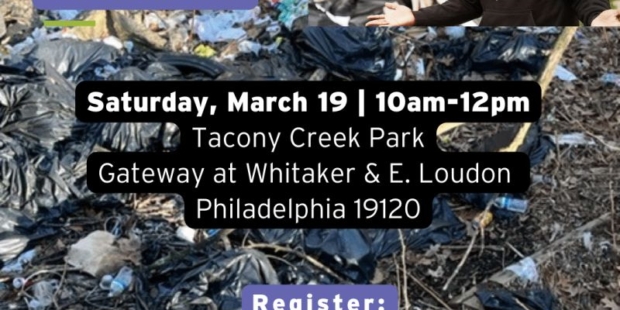 Date/Time
Date(s) - March 19, 2022
10:00 am - 11:45 am
Location
Whitaker & East Loudon Gateway to Tacony Creek Park, Philadelphia
Categories
Join us for a Tacony Creek Park Cleanup with our new best friend forever, Ya Fav Trashman! Let's show our love for this special green space and Circuit trail.
Saturday, March 19 from 10 am to 12 pm
Whitaker & East Loudon Gateway to Tacony Creek Park 19120
All tools and supplies will be provided, including work gloves, snacks, and water. Restrooms are not available. Please bring a reusable water bottle if you have one.
Sponsored by: Tookany/Tacony-Frankford Watershed Partnership, Ya Fav Trashman, Philadelphia Parks & Recreation, Philadelphia Water Department
Sign up with this form: https://docs.google.com/forms/d/e/1FAIpQLSeZxWY0h9dOqL-Esoz0FJKtfrd8n4v__d98lS8jfuqF8uvHNQ/viewform